Quirina Geary
Ohlone Foodways, Table Ceremony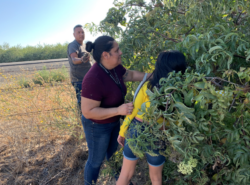 Quirina Gaery (Ohlone) was born in Yokuts land (present day Madera, CA). While growing up, she gained ancestral medicinal plant knowledge from her grandmothers and aunt. She has been part of the larger California Indian Community where she was mentored by traditional cultural leaders for the past 30+ years. She currently lives at the Elem Indian Colony reservation in Clearlake Oaks, Lake County, California where she has been given the duty as a roundhouse table captain, where she oversees all meals provided during traditional cultural ceremonies and dances. She also stands as a board member for the Advocates for Indigenous California Language Survival (AICLS) to help preserve and restore California Indian languages. Quirina is dedicated to advancing community-based learning approaches that preserve traditional ceremonial practices and Indigenous ways of life.
Apprenticeship Program
2021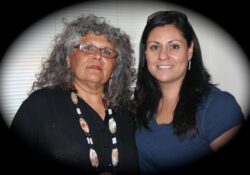 Quirina Geary will be working with Deborah Morillo (yaktitʸutitʸu yaktiłhini Northern Chumash, Ohlone) to transfer the traditional ecological knowledge and foodways essential to hosting a traditional Ohlone table ceremony. The apprentice will learn how to plan meals according to the Ohlone seasonal calendar, gather and prepare seaweed, and learn where and when to gather medicinal root using traditional methods and cultural protocol. The practice strengthens cultural and environmental sustainability. Both Geary and Morillo are from the same Ohlone villages from Santa Clara County and practice the California Indian Roundhouse religion. (Photo Description: Deborah Morillo and Quirina Geary at the 2016 Breath of Life Institute, Berkeley, CA)
Video from Breath of Life workshop at UC Berkeley, in 2014. Quirina Geary and tribal youth translated, recorded, and dubbed the Looney Tunes' cartoon, "Rabbit Fire" into the Mutsun Ohlone language.
Gallery
Quirina is on the far left in the beige shirt gathering root with her two children.
Quirina is on the left wearing a black shirt gathering seaweed with her daughter.
Quirina is second from the left in a red shirt seen gathering elderberry.
Next slide
Contact
Quirina Geary | qlgeary@gmail.com