Sankofa Fund for Cultural Preservation
Project grants for San Francisco-based individuals and organizations
The Alliance for California Traditional Arts is offering grants between $1,500 and $15,000 for San Francisco-based individuals and organizations. These one-year grants will support projects that foster artistic expression deeply rooted in and reflective of historically marginalized communities. This program is supported by the Sankofa Initiative of the San Francisco Arts Commission's Arts Impact Endowment.
The deadline to apply for this award has passed.
---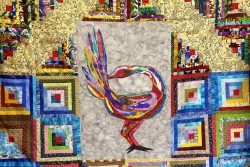 The concept of "Sankofa" is derived from King Adinkera of the Akan people of West Africa. Sankofa is expressed in the Akan language as "se wo were fi na wosan kofa a yenki." Literally translated, this means "it is not taboo to go back and fetch what you forgot."
Acknowledging that our heritage, legacies, ancestors, mentors, and communities are bedrocks of who we are and contribute to our creativity, the grants are intended to support work that is centered around what each community values as important. These practices involve many aesthetic forms, value systems, and languages. The Sankofa Fund is designed for the continuity and transmission of the collective values of your community.
Grant Amount
Requests may be between $1,500 and $15,000.
Who can Apply?
San Francisco-based individuals over the age of 18  (Please note: the grant award is considered taxable income and you will receive a1099 form to file with your taxes)
San Francisco-based nonprofit organizations with 501c3 tax status
San Francisco-based organizations without 501c3 status may apply through a fiscal sponsor headquartered in San Francisco
Priority funding will go to organizations and individuals that foster artistic expression deeply rooted in and reflective of historically marginalized communities. Using both the Cultural Equity Endowment Legislation and the Grantmakers in the Arts' "Racial Equity in Arts Funding: Statement of Purpose and Recommendations for Action," these communities include: African and African American; Latinx; Asian and Asian American; Arab; Native American; Pacific Islander; Lesbian, Gay, Bisexual, Queer; Transgender and Gender Variant People; People with Disabilities; and Women. (SF ADMIN. CODE CHAPTER 68: CULTURAL EQUITY ENDOWMENT FUND. Sec. 68.6. PROJECT GRANTS).
Please note: SFAC recognizes that some marginalized communities may not be listed here and encourage applicants to articulate and provide supporting evidence about the marginalization for any community not named above. Please also note the legislation pertains to marginalized communities and not fringe artistic disciplines.
What kinds of projects will be funded? 
The Sankofa Fund will focus on projects that support cultural practices rooted in a specific community with an identifiable lineage or collective history.  Projects should serve those same communities. Projects can focus on:
Support for the ongoing practice of cultural traditions
Teaching/Workshops/Apprenticeships
Performances
Exhibitions
Festivals
Documentation/Media/Oral Histories/Archiving
Conferences + Gatherings
All projects will be required to have a public presentation element which can be a live performance, online sharing, publication, etc.
Important dates at a glance:
Grant period: November 1, 2021 – October 30, 2022 (12 month grant period)
Applications available online: July 15, 2021
Deadline: September 1, 2021
Notification: October 15, 2021
Final grant report due: November 30, 2022
How do I apply?
The deadline to apply for this award has passed.
Applications will be accepted online through the Submittable platform beginning on July 15 and closing September 1, 2021 (11:59 PM).  In order to access the online application, please register for a Submittable account with your email and a password of your choosing. Once you have registered, you will be able to access the Sankofa Fund portal with guidelines and the application form.
We are able to provide paper applications for those unable to access the online application by request.
The application is in English, however we can provide translations from English to Spanish, Cantonese, and Tagalog by request.  Please contact the project manager to discuss your needs as soon as possible.
How Decisions are Made: Criteria for Awards
All proposal submissions will be vetted for eligibility, which means that applicants must be San Francisco residents or San Francisco-based nonprofit organizations to apply for funds. Those eligible applications will move to a review panel of BIPOC advisors who will discuss proposals and make recommendations for awards. The panelists are comprised of Bay Area based artists, cultural practitioners, and community arts specialists.
At least 50 percent of grant awards for all project areas must directly benefit vulnerable populations including: youth (age 0 to 24 years old), older adults (age 60 and up), individuals with disabilities, individuals affected by the justice system/foster care, and individuals experiencing homelessness and/or joblessness.
At least 50 percent of grant awards in the Cultural Preservation project area will go to individuals and 50 percent will go to organizations.
Criteria
Project description + cultural context

To what degree is the project reflective of a community/ies collective culture and values? How does this project support the goal of cultural preservation?

Personnel and Implementation

Implementation plans are clear and give confidence that the project can be carried out by the artist and team as described

Project Design

Is there a clear plan for the public sharing component of the project?

Communities Served

To what degree does the proposal reflect a historically marginalized community?  Does the application directly benefit any or some of the populations outlined in the guidelines?

Timeline + Budget

Based upon the proposal milestones + budget expenses, can this project be implemented?

Impact + Success defined by applicant

The proposal is clear regarding the intended impact on the community/ies served and has defined success on their own terms.
Watch aN info session with Program Manager Melody Takata
Contact
Program Manager: Melody Takata
Alliance for California Traditional Arts
Sankofa@actaonline.org
---
This program is supported through a grant from the San Francisco Arts Commission.