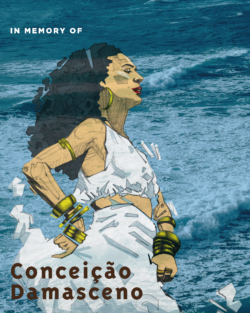 On September 4, BrasArte, the Berkeley nonprofit organization dedicated to preserving the traditional dance and music of Brazil held their annual Bay Area Brazil Day and Lavagem Festival, outside of the cornerstone brick building known as Casa da Cultura. This space has been animated since 2007 by Conceição Damasceno, dance artist, choreographer, cultural organizer, and ardent cultural ambassador for the arts of Salvador, Bahia who died in April following a long illness.
The festival this year was dedicated to her memory.  A traditional Lavagem is a spiritual cleansing ceremony dating back to the time in Salvador Bahia when Africans brought to Brazil as slaves were not allowed to attend Mass, but instead had to wash the steps of the church. Conceição brought the Lavagem observance to Berkeley that begins with a procession of devotees dressed in white, accompanied by drumming, and culminating in a blessing for world peace given by children from the local community. A street party follows with live music, dance performances, and capoeira. Food and craft vendors set up along the street and activities for children attract a diverse crowd of people. Many Brazilians in the area recognize the day as a unique cultural event. This was the kind of celebration that bridged secular and sacred worlds which Conceição was so adept in translating to others through her deep love for her culture, which she was evident in all she did and a constant refrain in her teaching.
ACTA support for BrasArte where Conceição taught classes and created community began with a Living Cultures grant in 2007 to support a cultural exchange with the Afro-Brazilian performance troupe Ilê Aiyê, best known for their efforts to "re-Africanize" Brazil's celebrated Carnival. The company participated in performances, outreach activities with youth, and an appearance in the 2007 Carnival San Francisco that energized the local artists and contingents at the ever-popular event that draws close to half a million spectators to the Mission neighborhood each year to watch and dance along the with parade contingents.
Conceição's last participation in Carnival San Francisco was in 2018, moving and waving from a decorated float, refusing to let her health keep her from the energy of the parade that she was so instrumental in shaping through her artistry. That same year Tainah Damasceno, her daughter, was crowned the queen of the parade. Tainah has since taken over for her mother as artistic director of BrasArte. Nick Harvey, Tainah's father and Conce's husband, will continue with other responsibilities for the non-profit. As is the case with traditional arts practices, the transmission from one generation to the next is often within families. Keeping Conce's spirit alive as a family is buoyed by the community of practitioners that she helped to create through her devotion to the culture that she carried with her from Bahia to the Bay Area with affection and respect.