"Lavagem" translates to "washing," and refers to the washing of the stairs of the Catholic church of Bonfim. According to the BrasArte website, "the tradition dates back to the time in Salvador Bahia when Africans brought to Brazil as slaves were not allowed to attend the Mass, but instead had to wash the steps of the church." The Lavagem ceremony is one of many practices of the African diaspora through which cultural groups have inverted racist points of origins to instead highlight that—for many—these practices have become vehicles for artistic expression, community celebration, and physical and emotional wellbeing.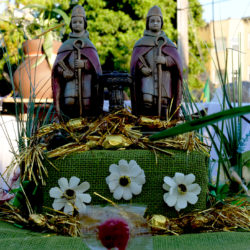 While Lavagem is mainly celebrated in Brazil on the actual steps of the historic church of Bonfim, BrasArte has been celebrating the festival in California by taking the ritual to surrounding streets of the Casa de Cultura for the past decade, transforming a vacant parking lot into a ceremonial center—the very same parking lot that is scheduled to be developed into apartments.
I arrived that sunny afternoon in September on foot, and even from blocks away I was immediately drawn in by festive music and the vibrations of multiple drums. The sounds got louder as I approached, mixing with lively conversations in Portuguese and Spanish. I saw people selling northeastern Brazilian cuisine, yucca fries, and paella on the street, as well as vendors talking with customers and friends. I took this all in, smiling as I made my way over to the main space, past tents of African instruments for sale and people offering scores of white dresses and white shirts. Interspersed with the commerce on the streets, groups of local samba and capoeira dancers were interacting with guests, families, and people of all ages and cultural backgrounds.
Together, they were creating a unique sense of place here in this parking lot—enhancing the quality of life in the neighborhood and the kinds of cultural engagement possible.
If you were walking past the corner of San Pablo Avenue and Hearst Street during the festival, you would see an altar that BrasArte constructs each year to pay homage to one of the many orixas or deities. On a stage nearby, I saw live musicians and dancers animating attendees of all ages, moving to the beat of samba de roda, among other Brazilian genres. Samba de roda is traditional samba from Bahia, a social dance in which people can enter the roda or the circle and interact with each other. Simultaneously, inside the Casa de Cultura, another group of participants were dancing to different beats—a relaxed band played acoustic instruments onstage. In this more intimate setting—filled with colorful decorations, flowers, and banners—neighbors danced and sang along.
The vibrancy of the cultural events that take place in and around the Casa de Cultura—like Lavagem—are the result of BrasArte and CAF's hard work and strong community ties. Over the years, the organizations' commitment to creativity, community, and wellbeing has created a dedicated network of students, instructors, and attendees that congregate year-round. Indeed, their organizational calendars are dotted with performances, dance and music workshops, classes, lectures, and social gatherings. But BrasArte and the CAF are under pressure.
A Shared Cause
Of course, BrasArte and CAF are not alone in this. The kind of pressure that gentrification brings has impacted other arts organizations in the Bay Area and all over the state. Just last year in the San Francisco Mission District Galeria de la Raza, an arts nonprofit serving the Latinx community of San Francisco, was forced out of its home of nearly fifty years because of a startling 100% rent increase. According to an article by Julian Mark, Galeria "served as a unifying force for the Chicano civil rights movement, and a backbone of the Latino arts explosion of that era. It has since turned into a hub for community and youth programming." For over 40 years, the Galeria had been rooted in place. The organization's historical contributions to building a sense of place in the city were overrun by one of the nation's most brutal rental markets. 2018 also marks a fateful year in Los Angeles for another arts organization, the Cornerstone Theater Company, which was forced to close its doors and relocate from its 20 yearlong location in the Arts District neighborhood of downtown because of rent hikes. While its artistic director and managing director see this move as an opportunity to "think forward to a more flexible and nimble future," as they state in an article by American Theatre Editors, the changing landscape and significant increases in rent is pricing out pioneering community-specific and site-specific art-making organizations like Cornerstone without considering their legacy and work.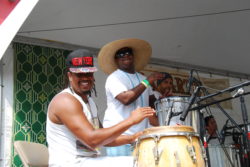 The silver lining in BrasArte and CAF's case is that this pressure has brought out wide support to keep the Casa de Cultura rooted in place, including from the owner of the building, the City of Berkeley, and key strategic partners. The current owner, whose father constructed the building, would like the edifice to remain in the hands of a non-profit organization. As such, he has agreed to sell the building to CAF (who will continue to partner up with BrasArte) if the two organizations can raise a significant down payment. Both organizations have only a few weeks to raise this money with the help of community members and the general public.
The CAF recently requested a $150,000 grant from the City of Berkeley to support their purchase and create a permanent home for the organizations. On November 19, the Casa de Cultura community gathered at a Berkeley City Council meeting to voice their support for the grant. The gathering—which naturally included capoeira, music, and dance—proved successful as the City Council approved their request for funding. What's more, Community Vision, formerly known as the Northern California Community Loan Fund, has stepped in to advise the CAF and BrasArte in their efforts. This entity offers communities "strategic investment and guidance" through lending and consulting, while also "help[ing] folks realize the powerful visions they have for themselves, their organizations, and their communities."
These interlocking efforts that are moving the Casa de Cultura case forward offer similar organizations a glimmer of hope that they too can stay in place and bloom where they are planted.
It is also a poignant reminder that, together, community organizers, leaders, and partners can be the real grassroots "developers" that neighborhoods like West Berkeley need to remain culturally vibrant.
In an inspiring keynote presentation at the conference Creating Healthy Communities: Arts + Public Health in America, I heard Emmanuel Pratt, co-founder and Executive Director of the Sweet Water Foundation, talk about the practice of "Regenerative Neighborhood Development." This creative and regenerative social justice method "creates safe and inspiring spaces and curates healthy, intergenerational communities that transform the ecology of so-called 'blighted' neighborhoods." In this process, which has literally transformed a part of the south Chicago neighborhood where the Foundation is based, locals residents have been the real agents of change, reclaiming space and adding value to it in their own terms. So successful have these efforts been that, as Pratt says, the community is "at a point of becoming the developer."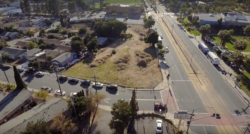 To answer the question I posed at the beginning: yes, developers can respect the artistic and cultural practices rooted where they will build if the "developers" are part of the community. Sweet Water Foundation's realization that their community is becoming the developer "is a critical thing," as Pratt put it, "[and] we are now evolving the structure of our organization to become a community land trust…we have land, ownership, activation, residents, people on boards, advisors, a whole network of folks." In an example closer to home, the East Los Angeles Community Corporation (ELACC) and its organizational partners are exploring the community land trust option in Los Angeles, where they are re-envisioning county-owned vacant lots as community-owned spaces.
I once asked the architect of the Children's Library in Oaxaca, Santibañez, how that space came about. He replied that he would often visit the space as he was designing what would soon fill it. On these visits, he would walk around the area, sit and observe for long hours, and simply "be" in that space. After many visits like these, the space—the pochote trees, thick adobe walls, and downward natural slope—all "spoke" to him. This sense of place subsequently informed his design.
I invite everyone to do the same—to visit and observe those spaces in your neighborhood that have been targeted for gentrification or may be targeted in the future. I invite you to listen and see how people use, cherish, and value place, making it their own through art and through gathering. I invite you to explore the arts practices in your own backyard, and beyond. Connect with community organizers and cultural centers and ask what kinds of issues they might be facing, and how you can possibly help. You can become part of an environment of support and an active grassroots "developer" yourself.
As community members, we can collaborate and design the spaces and futures we want. In turn, we become catalysts for bolstering the richness that is already in place.
---
What challenges and opportunities have you witnessed among the cultural organizations in your neighborhood? What alternative models of development do you think need to be explored further? Reach out to us via email or social media—we at ACTA want to hear what is happening in your community.