Richard Bugbee
Waw'kish, A Southern California Tribal Sport
Richard Bugbee (Payómkawichum – Luiseño), based in Topanga, in Los Angeles County, has been a Southern California tribal cultural practitioner for over 20 years. Bugbee has spent many years sharing his ethnobotany knowledge learned through many years of mentorship and furthered through a 2009 ACTA Apprenticship with his mentor, renowned Kumeyaay knowledge keeper, Jane Dumas. This knowledge has extended into other cultural practices like the Southern California tribal sport of Waw'kish.
Richard worked with Jane Dumas to create lessons plans that led to the development of the Kumeyaay Ethnobotany curriculum he still uses today. Learning this ethnobotany knowledge laid a solid foundation to help bring Waw'kish, a tribal sport similar to field hockey, into contemporary play. Richard has engaged the knowledge of several Southern California tribal communities in researching and helping to strengthen the practice of Waw'kish and other contemporary practices of California Indian communities, including Mark Macarro (Pechanga), Leroy Miranda (Pala), and Luke Madrigal (Cahuilla), and Benito Peralta, an elder of the Santa Catarina indigenous community in Baja California, Mexico.
Apprenticeship Program
2020
Waw'kish, A Southern California Tribal Sport
with apprentice Timothy Ornelas (Fernandeno Tataviam Band of Mission Indians)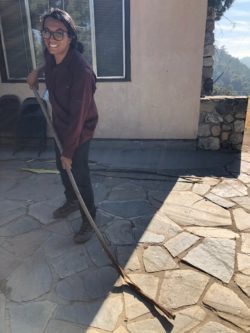 Waw'kish is a form of field hockey played amongst southern California tribal peoples. Two teams play a large dirt field using wooden sticks to hit a root-made ball in between goal posts on opposite sides of the field. The sport involves many aspects of culture: language, ethnobotany (harvesting and making sports equipment), regalia-making, sportsmanship, physical activity, and community gatherings.
Richard is working with his apprentice Timothy Ornelas (Fernandeño Tataviam Band of Mission Indians), a coupling which demonstrates the traditional practice of sharing culture between and amongst California tribal villages. Timothy has made a commitment to become the Fernandeño Tataviam tribe's knowledge keeper for Waw'kish.
During the course of the apprenticeship, Richard will guide Timothy in all aspects of the game, from stories of its creation, traditional values of sportsmanship, ethnobotany used in the gathering and creation of the equipment (stick, ball, etc), and regalia making.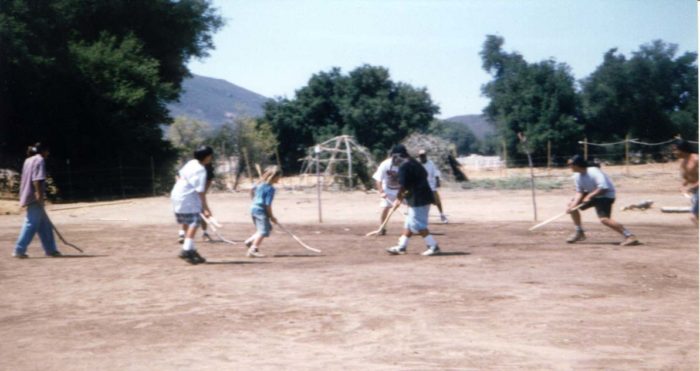 2009
Kumeyaay traditional plant use 
apprentice to Jane Dumas
Jane Dumas worked with apprentice Richard Bugbee, a student of hers for over 25 years.  Their apprenticeship included developing a compendium of local plants and their Kumeyaay names, making an herbarium, and ongoing studies in plant identification, gathering, and propagation.
Contact
Richard Bugbee | hunwut@aol.com | (619) 459-9086