Nitya Narasimhan
Bharatanatyam
Dance is my passion, my career and my life… More than that, my dance is a reflection of who I am."

– Nitya Narasimhan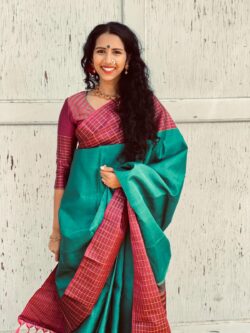 Nitya Narasimhan trained in Bharatanatyam under Guru Suma Mani, in Chennai, India, starting at the age of four and completing her arangetram (debut, solo performance) in 2003. She has learned from Guru Rukmini Vijayakumar of Raadha Kalpa Dance Company; studied the Marga-Nritta Karanas with Guru Vithya Arasu of Natyakala Vidhya; and pursued Dr. G.V. Guru Bharadwaaj's Nattuvangam diploma program. Additionally, Narasimhan graduated with honors from a postgraduate diploma program in Movement Arts and Media at the Attakkalari Centre for Movement Arts; she also trained in the Iyengar Institute of Yoga in San Francisco's Art of Teaching program. She continues to deepen her Bharatanatyam career under the tutelage of Smt. Shweta Prachande, an accomplished dancer, performer, and student of Guru Priyadarshini Govind.
---
Apprenticeship Program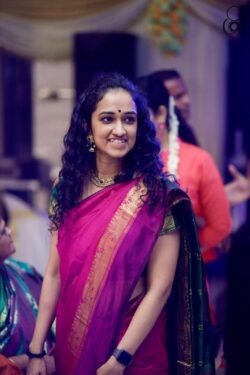 2023
Bharatanatyam
with apprentice Charanya Kannan
Narasimhan will guide Charanya Kannan through a holistic program incorporating body awareness, technique (Nritta), emoting, Talam (rhythm) and music sense, choreography nuances, and theory of dance (Bharathanatyam's history, contemporary relevance, and evolution). Kannan will also interpret eighth- to twelfth-century scriptures and texts to infuse their meanings into dance choreography.