Gladys Dick McKinney
Dunlap Mono Basketry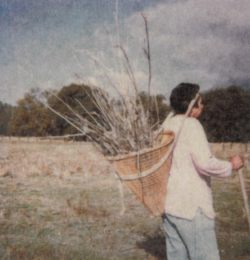 Beginning at age 10, Gladys Dick McKinney (Dunlap Band Mono) began learning basket weaving techniques from her great aunt, Annie Charley, and her mother, Juanita Anderson Dick. Her mother taught her how to identify plants and Gladys gathered basket material with her mother and grandmother as a child in Dunlap, California.  She completed her first cradleboard at the age of 14. Gladys has been an active basket weaver and educator for over 50 years, passing on her knowledge of traditional arts and culture to Native people from her family and community as well as the general public.
Of the strenuous work involved in gathering, cleaning, stripping and preparing the material, Gladys says, "Basket making teaches you patience above all else….  Then you will have patience with your children, your students and those who don't understand.  Your rewards come through continuing the tradition."
Apprenticeship Program
2021
As a current master artist in ACTA's Apprenticeship Program Gladys will be working with Shonnie Bear, a fellow member of the Dunlap Band of Mono Tribe, in the art of Dunlap Mono Basktry. Together, they will be weaving plant material and fiber, gathering sticks (sumac) for base of cradle and using redbud sticks for string or lace to hold sticks together by a method of "twining". Shonnie will learn how to split redbud sticks that are in season and gain hands on training for what kind of plants to gather for the goal of completing a newborn cradle board.
2015
Gladys worked with apprentice Cristina Gonzales in passing down the knowledge of  fingerweaving traditional fibers.  Together they will complete the process of fingerweaving two belts, from the initial gathering and preparing the dogbane and flannel bush plants, to the fingerweaving process itself.
2010
Gladys participated in ACTA's Apprenticeship Program in 2010 with her sister and apprentice Florence Dick.  During their apprenticeship, they completed a large sumai basket from beginning to completion.  Sumai baskets are made from redbud using a twinning technique, and are made for gathering redbud sticks, sedge, sourberry sticks and chaparral, as well as for fishing and gathering and drying plant food.  Gladys guided Florence in traditional gathering techniques at ancestral gathering sites, preparing the material, and weaving a basket.  Florence learned to weave traditional ancestral designs into the basket.
2000
Gladys was also a master artist in the inaugural round of ACTA's Apprenticeship Program in 2000, working with long-time friend Ruby Vargas.  During their apprenticeship, Gladys taught Ruby how to gather and clean sour berry, chaparral, and red bud sticks, and then how to weave these materials into baskets.  Of her work as a basketweaver, Ruby says, "I have deep feelings for the baskets. To me, they remind me of life.  I see the people in the baskets.  They are the living, breathing, things that shall remain forever, for my grandchildren to see and enjoy, for my family to know we will always be here.  I shall teach the young women in my family to gather, clean, and make baskets as the elders before me.  And I shall leave this heritage for my family."
Gallery
Next slide