Bernard Barros Ellorin
Music of the Southern Philippines
Bernard Barros Ellorin of San Diego learned traditional tagunggu' music from various master artists living in the province of Tawitawi in the Sulu Archipelago, Philippines during his graduate studies in 2006-2008. Tagunggu' music from the Sama and Tausug–two of the indigenous Muslim societies from the Sulu Archipelago– is traditional gong ensemble music played for festive occasions during the week of a full moon. It has shared similarities with gong-chime traditions on Mindanao Island, Philippines and neighboring Southeast Asian countries. Tagunggu' music also functions as the accompaniment to Pangalay–an indigenous classical dance form with graceful curvilinear movements. Similar to the kulintang practiced by the late Danongan Kalanduyan, the ensemble has the kulintangan, a gong row instrument with up to eight kettle gongs, which are supported by larger gong and drum instruments. Musicians of all ages play the music within the community for festive occasions. In the Filipino American diaspora, tagunggu' music with Pangalay dancing celebrates the diversity of Philippine cultural arts and its people. More importantly it instills respect for indigenous cultural art forms marginalized by the majority population in the homeland.
Bernard studied under three master artists representing both ethnic groups: the late Taalao Manandao and Timallay Gilasti, his Sama informants, and Salmeno Elang, a musician of Sama and Tausug ancestry. Bernard is also a long-time student of kulintang music from the late Danongan Sibay Kalanduyan. Tagunggu' music from the Sulu Archipelago is part of Bernard's life's work in promoting indigenous Philippine music with artistry, integrity, and respect. Learning to meticulously study each complex melody–both from Kalanduyan's heritage from Mindanao Island and the repertoire taught by Sama and Tausug musicians–is part of Bernard's work as a Philippine ethnomusicologist with a passion for educating his community about marginalized Philippine cultural art forms.
Bernard Ellorin performing with members of the Pakaraguian Kulintang Ensemble of the Samahan Filipino American Performing Arts & Education center at a conference for the Filipino American Historical Society in July 2014.
---
Apprenticeship Program
2021
Tagunggu' music
with apprentice Rogelle Zamora
Bernard and Rogelle will engage in a six-month intensive covering the cultural background and the rudiments for playing musical instruments from the tagunggu' music ensemble, namely from the Sama and Tausug ethnic groups located in the Sulu Archipelago, Philippines. The apprenticeship consists of two parts: private instruction on the kulintang, also known as kulintangan (gong row instrument), and participation in the Pakaraguian Kulintang Ensemble's group rehearsals on the larger gong and drum instruments. All of these activities are in preparation for the Samahan Filipino American Performing Arts & Education Center's 44th Annual Gala Concert of Philippine Music & Dance scheduled for November 2021. The two-hour concert will feature music and dances from different regions of the archipelago. To demonstrate the apprentice's proficiency in tagunggu' music, we will perform a suite of music and dances from the Sulu archipelago featuring traditional musical repertoire and its symbiotic relationship to accompanying the classical dance form known as Pangalay.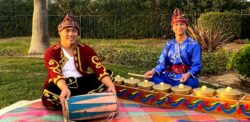 2019
Kulintang music
with apprentice Kimberly Kalanduyan
Master artistBernard Barros Ellorin trained his apprentice Kimberly Kalanduyan in Kulintang music of the Southern Philippines. Click here to read more about Kimberly's journey with kulintang as she reconnected with family and her grandfather, Danny Kalanduyan's, legacy through her Apprenticeship.
Bernard and Kimberly practice kulintang in San Diego as part of their 2019 ACTA apprenticeship.