Over the past three years, weekly private lessons with Kim consisted of teaching her a repertoire of pieces through aural transmission. This past year, the ACTA Apprenticeship Program gave us the opportunity to take our lessons to the next level. Each session dissected the melodic phrases of highly complex pieces. Viewing field footage and performances of her grandfather in the Southern Philippine island of Mindanao enhanced the learning process. As a diasporic tradition, students of Master Kalanduyan learn how to play melodies and respect the tradition of music that is part of his people's blood.
However, both of us realized, all of what we perform is out of context. We needed to connect to the roots of the tradition.
I started out learning just one song a week from Bernard, or from his assistant director Eric Abutin. After learning about six or seven pieces, the songs and rhythms became more complicated, and it would take me about two or three weeks to learn one piece. Bernard eventually felt comfortable and confident in having me perform with his performing group, the Pakaraguian Kulintang Ensemble. We went from learning just kulintang music to actively engaging with the dances, the culture, and the language, which I would eventually learn and which would help me gain a deeper understanding of the music. We decided to take our apprenticeship to the next level and take on a nearly year-long intensive via the ACTA apprenticeship. 
It was not long until playing and sharing kulintang music and Maguindanaon culture became a passion of mine. Through it, I found my identity as an artist, as an ethnic Maguindanaon Filipino, and as a young woman.
In addition to the apprenticeship, we decided that actually visiting the origin of the music would give me the most accurate information and a more profound experience. So on July 1, 2019, we packed our bags and boarded a flight to the Philippine capital of Manila. From there we hopped on another plane to Marawi City in the Lanao del Sur province to study Maranao kulintang music. We would then go on to Cotabato City to not only study Maguindanao kulintang music, but also to reconnect with my grandfather's family—relatives whom I had never met before.
Back to the Roots
Bernard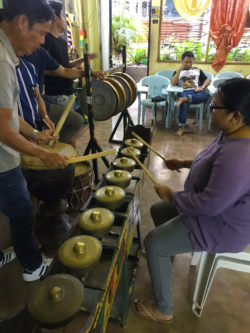 I started incorporating reading material and footage from previous field research excursions in order to prepare Kim for what to expect on this trip to visit her family in the Southern Philippines. Our main goal was to educate her further about the repertoire traditionally played by women from her grandfather's village: pieces from the kamamatuan (old style). According to Maguindanaon master musicians, the kamamatuan repertoire has two main compositions: "Duyog" and "Sinulog." "Duyog" means to chase or speed up; "Sinulog" means movements of the river. Faisal Monal, a Maguindanaon master musician and dance choreographer, states that three versions of both pieces are played to honor the three royal houses of Maguindanao: Maguindanao, Buayan, and Kambuntalan.
Before leaving for the Philippines, Kim learned all six pieces while also refining pieces she learned prior to our apprenticeship. In a sense she was already on her way to becoming a fully fledged master Maguindanao female kulintang artist ready to reconnect with her family.
Organizing our trip to the Southern Philippines entailed contacting her relatives a few months in advance and scheduling interactions with master artists to observe the art form in context. We began our site visit in the Lanao del Sur province, home of the Maranao people (also known as people of the lake). Immediately afterwards, we took a four-hour drive to visit the Maguindanaon, or people of the flooded plain, community in Cotabato City.
Visiting both regions taught us how these genres are living traditions that are constantly evolving in different spaces—from rituals, to celebrations, to entertainment.
Kimberly
Our time in the Southern Philippines was nothing short of amazing. As a former student of Hawaiian hula, I know and understand what curriculum and environment is necessary to optimize teaching and learning of cultural arts. Being on the island of Mindanao, surrounded by other master artists and natives to the culture, there was never a moment where I was not learning something new. On our first day in Lanao del Sur province, we were welcomed with a traditional feast by the local people where we got the opportunity to partake in the things that I had learned about at home with Bernard, but never experienced in its true context. We watched an onor, a professional female Maranao performer, serenade us and the neighboring villagers in attendance. A few of them even went to the kulintang and played pieces they knew. We ate traditional foods of the region and got to interact with the villagers. And each day there, we had interactive workshops by the student performers who taught us kulintang pieces as well as songs and dance moves. 
Our next stop on our tour was Cotabato City, a four hour drive down a mountain. The city is more developed than Marawi City in Lanao del Sur, but not as developed as cities in the metro Manila area. We met our guides: one of them was my uncle and the other was a very close friend to my grandfather. These two themselves are also master artists. On the first day, we were invited to attend a salangguni, or a Maguindanaon engagement party. There we were able to see kulintang in it's celebratory context. The kulintang provided the background music, the entrance music, the entertainment music, the exit music, etc. Bernard was even asked to play for the wedding couple—it was a true display of his artistic skill as his kulintang playing left the audience and the local kulintang artists in shock. It was very impressive to them that an American (although a Filipino by birth) could play so well.
Our next day, we visited my grandfather's family compound where my relatives reside. We were welcomed by celebratory kulintang music as per tradition. Walking into the house was very emotional for my grandfather's sister and cousins as they greeted me with hugs and kisses.
I was finally able to play for this side of my family after months of intense lessons and practices with Bernard. It was this moment that he was training me for.
We spent our remaining days in Cotabato City with performing artists trained by master artist Faisal Monal, director of Salamindanao Dance Company. I also met with another master kulintang musician Sata Abdula who taught me variations of kulintang music.
Moving Forward
Bernard
Throughout the week-long research excursion, it dawned on me that I have the rare privilege and responsibility, as a non-native practitioner, to continue Guro Danny's legacy even with the blessing of native practitioners directly from both the Maranao and the Maguindanao regions of the Southern Philippines. But the best thing that came out of all of this is that I developed an even closer relationship with the Kalanduyan family by simply returning the legacy of Guro Danny to his direct blood line, embodied by Kim and her work to reclaim her family's musical heritage as her own.
Kimberly
Throughout this whole experience there was one specific recurring theme that I took note of and provided me with reassurance that what I was doing was the right thing. With each of the groups that we encountered and learned from, we asked them, "How do you feel about Filipino-Americans, whether they are of Maranao or Maguindanao ancestry or not, portraying and sharing your cultural art in the United States? If you would like us to give them a message from you, what would it be?"
Their answer was uplifting and inspiring. Each group said they felt appreciated and seen. They felt proud and honored that there are people willing enough to learn and bring awareness to cultures that are not their own. However, the only thing they wish is that their people and their culture are accurately represented and therefore respected. When we asked them, "How can Filipino-Americans maintain accurate representation? How can Fil-Ams maintain respect?" They answered, "By doing what you are doing right now. By returning to the origins and learning from native people."
Bernard and I have returned to the States now and are nearing the end of our apprenticeship. I never imagined that I could be at the level of kulintang playing I am now. But more importantly,
I never imagined that I would be at a place so spiritual, so personal, and so close to kulintang, to my heritage, and to a people that I never knew before. I feel inspired and motivated. And although our apprenticeship is nearly over, my journey is not.
I have a newfound purpose for continuing to learn; for continuing to share a marginalized peoples' culture in the United States, in honor of Bernard, in honor of ACTA, in honor of the people I met, and in honor of my grandfather.