ACTA had the great pleasure of learning about the powerful and creative community work of the Imperial Court of Los Angeles and Hollywood (ICLAH), a historic charitable giving organization anchored by fellowship and social gathering in the LGBTQ+ community, through their participation in the Promise Zone Arts program, a multi-neighborhood cultural asset mapping and activation initiative administered by the City of Los Angeles Dept. of Cultural Affairs and co-created by the Alliance for California Traditional Arts and LA Commons.
Through Promise Zone Arts, members of ICLAH shared about the community well-being work they do through organizing and participating in elegant balls, pageants, coronations, and drag shows that raise funds to serve LGBTQ+ community members in Los Angeles, many of whom experience housing insecurity, or are vulnerable to other systemic disadvantages. Through a partnership with the mayor's office, city council members and Asian Pacific Intervention Team (APAIT), the Imperial Court spends one night a month walking West Hollywood to connect with homeless folks in the community. They serve food and provide information about medical and other lifesaving services.
To learn more, we spoke to the elected Empress Errinneh Ann Lawas of ICLAH to learn more about the creative ways ICLAH and its members not only serve their community, but sustain and pass on queer art forms like drag shows.
This Q+A in conversation with ACTA's Media Director Jennifer Joy Jameson is part of ACTA's ongoing Queering California Traditions series, which features voices from queer traditional artists across the state.
---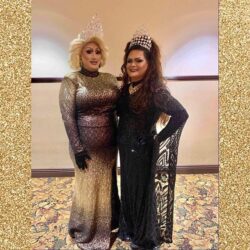 How does ICLAH support and further LGBTQ+ arts and culture through community and events? What are some of the queer art forms that members practice and share?
The Imperial Court of Los Angeles and Hollywood (ICLAH) uses the art of entertainment as its main platform to fundraise funds for the LGBTQ+ Community and various causes such as HIV/AIDS awareness, homelessness and DACA (Deferred Action for Childhood Arrivals).  These events serve as the avenue where members of the ICLAH and community members can express themselves thru drag shows, build their self-confidence, and practice creativity thru pageants and making their gowns and costumes.  The queer art form that members practice and share is through drag shows.
What makes a good drag performer? How does it feel to perform?
What makes a good drag performer is being well-rounded.
Drag is art.  If a drag performer can captivate someone with their performance by their song choice, dance moves, make-up techniques and/or stage presence etc., they are doing something right. There are many styles of drag and that is what sets us apart from each other.  We make it our own.  But we all want to have a connection with our audiences.
Performing in drag gives the performer a sense of a "high."  The performer loves the fact that she can go out on stage and make people smile and/or laugh and be captivated during the performance.  That positive feedback is really feels amazing and is what keeps the performer going in this industry.
What does Pride mean to you? To ICLAH?
For me, Pride means accepting who you are and being proud of all you believe and stands for.
There is no feeling of being ashamed and no hesitation. It is that ability to express oneself regardless whether what other people think and react to it. ICLAH has been very respectful of how one person feels, how they present themselves and what they believe in among its members.  The court has been welcoming to its members whatever their gender, preferences and orientation.
How Does ICLAH help its members learn drag, or grow as a drag performer?
ICLAH provides an avenue where a beginner or seasoned drag performer showcases their craft in performing and make up artistry through fundraising events.  Most of our seasoned drag performers established "family" like relationships among other drag performers where they help each other through guidance and support with their performances, make-up, and costumes.  
What does ICLAH have coming up next? 
Due to the current situation dealing with the COVID-19 pandemic, most of our events are via Facebook, Instagram posts, and IG livestreams. We launched a new series called LA's Top Online Performer. Each month has a different theme, and June's is Pride.  The performer will submit to ICLAH their recorded performance.  Their video will be uploaded to the ICLAH Facebook Page.  The viewers can support their performer by donating thru ICLAH Venmo, and Cash App.  Each dollar donation towards the performer gets 1 point.  Performer with the most number of points win the contest.  Prize awaits the winner as form of incentives for their hard work.  This contest will continue until December 2020. ICLAH will continue to feature its current members and past monarchs in Facebook and IG.
Donate to ICLAH!
@ICLAH on Venmo, and $ICLAH on Cash App