"I say to the younger generation: Learn your own song and dance. We don't need a country if we have our culture alive. Having a country and no culture is like having a temple with no God inside."   — Tsering Wangmo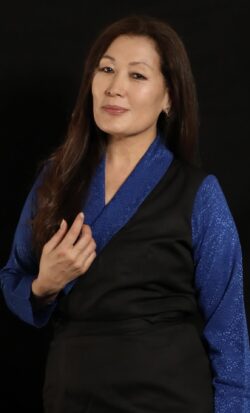 The Alliance for California Traditional Arts congratulates Tsering Wangmo Satho, Tibetan opera singer and dancer from Richmond, California, on being named one of ten 2022 National Heritage Fellows by the National Endowment for the Arts–the nation's highest honor in folk and traditional arts.
It has been a privilege for us at ACTA to work alongside Ms. Wangmo and to facilitate support through our grant programs since 2003 to her as a mentor artist to several apprentices that have included family members learning a vast repertoire of folk songs and dances.  Support also included resources for the Chaksam-pa Tibetan Dance and Opera Company, which she co-founded with artists, Tashi Dhondup Sharzur (Techung) and Sonam Tashi in 1989.  She has carried the vision of this nonprofit as its artistic director of the company that is comprised of Tibetan master artists, all of whom, like herself, have trained in exile.
Exile is a dynamic force in describing Tsering Wangmo's story. For many immigrants, life in the diaspora can be a negotiation of new opportunities coupled with a longing for home. With the complications of exile, barriers and political danger add further complexity to the story.
Yet this "sticky" area is where Tsering Wangmo's dedication, artistry, and spirituality is fueled to lift up the practice of Tibetan arts. Her work is spanning many generations simultaneously, from documenting elders to her weekly teaching of youth who will be the future culture bearers for Tibetan-Americans. When the Dalai Lama went into exile in 1959, many Tibetans followed their spiritual leader to India where he found sanctuary. Tsering was born in a refugee settlement in Southern India in 1967. "During my childhood, I have seen my elders singing and dancing on special occasions which made me feel happy," she recalls. Her elders served as living examples of tradition and language, influencing Tsering's future trajectory.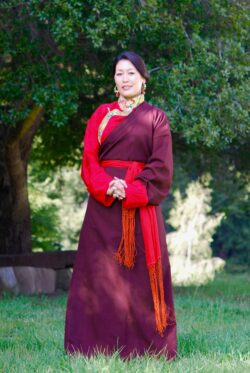 As a master artist who does not have the direct experience of living in Tibet, Tsering trained at the Tibetan Institute of the Arts (TIPA), founded by the Dalai Lama. The establishment of the training institute served as a critical response to the threat from Chinese occupation to Tibetan culture and to the Tibetan performing arts in particular. Transmission is a critical lifeline for Tsering Wangmo who through her focus on teaching and exemplary artistic practice continues to embody a powerful testament of the power of arts in facing cultural erasure. With the repertoire of song, dance and music that spanned sacred and vernacular themes, Ms. Wangmo had the opportunity to tour from India with other master artists through Europe in 1986 and 1989 sharing Tibet's artistic legacy to receptive audiences. In 1989, she travelled solo to the Texas Folklife Festival to join with two other TIPA trained artists for a showcase of Tibetan arts. It was her first time in the United States and soon decided to apply for residency, which she was granted with a visa based upon her "extraordinary artistic abilities* ," paving the way for the American chapter of her life's work to begin. She found the Bay Area a hospitable landing spot with its diverse communities and artistic offerings and it is where Chaksam-pa (meaning bridge builder) was founded and continues to thrive decades later.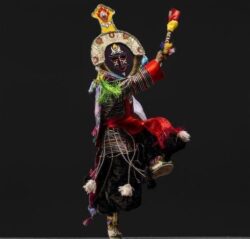 Tsering has performed in Europe, Asia, Canada and the Unites States. She was a featured artist at the 1999 Losar (New Year) Concert at New York City's Carnegie Hall. Her classically trained Tibetan opera voice is featured on all of Chaksam-pa's recordings. Her solo CD, Forbidden Voice (Stillwater label, 2006) is a compilation of Tibetan folk songs and Tibetan contemporary jazz. With the support of the Cultural Conservancy, a San Francisco non-profit whose mission is to protect and restore Indigenous cultures, Tsering initiated the Tibetan Cultural Preservation Project in 1995. Organizing dozens of programs including a sand mandala ceremony by Tibetan Buddhist nuns, and a 2001 Losar celebration featured Tibetan elders from India impacted not only the Tibetan community in proximity but were documented and produced into videos to share with Tibetan communities worldwide. Holding a big vision appears to be natural for Ms. Wangmo. In addition to her talents in the performing arts, she also introduced the Bay Area to her foodways. She was the chef and proprietor for San Francisco's only Tibetan restaurant, Lhasa Moon for many years. The restaurant garnered awards for its food and was listed by the San Francisco Chronicle as one of top 100 restaurants in the city. A cookbook entitled, The Lhasa Moon Tibetan Cookbook, published in 1998 was co-authored by Tsering Wangmo.
Another milestone occurred in 2011 when the Chaksam-pa Tibetan Dance and Opera Company, produced and presented a full seven- hour performance of "The Religious King Norsang" at the Craneway Pavilion, in Richmond, California with ACTA support.  This was the first time a Tibetan opera was performed in its entirety in North America. As the artistic director, Wangmo assembled master artists from all over the United States, Canada and India to perform the 700-year–old tale with its contemporary message regarding water resources which are increasingly polluted and political leaders who are often embroiled in external wars while their nations suffer. The timeless message that Norsang brought to audiences is to honor and protect fresh water sources and rule with a pure heart. The opera drew audiences from as far away as the Pacific Northwest. The rare opportunity to bring a multigenerational Tibetan community together with interested Bay Area audiences was a rare and significant moment. Chaksam-pa aspired to another first for diapsora Tibetan communities by producing  the first-ever Shoton Festival on July 2-3 in Richmond, CA.  The multi-day event brought together master artists from North America to the Bay Area to mount two operas in the Llacho Amo tradition with its roots in 14th century Buddhist tales.  Supported by the prestigious Hewlett 50 Commission in Folk & Traditional Arts, this was one of only ten commissions awarded to the discipline.
An important project of the heart has recently come to fruition. In 2001, Ms. Wangmo began to document and to learn songs from her mother and culture bearer who cannot read or write but whose memory holds over 200 regional songs from the Kongpo region of Tibet. Songs of Kongpo, published in 2020 is a free resource available to the exiled community. The collection is meticulously handwritten by Ms. Wangmo in the Tibetan language and recorded now for posterity. While this nomination is deservedly a recitation of achievements meant to provide context, what is abundantly clear is that the consistent presence of an extraordinary artist and culture bearer like Tsering Wangmo is an act of love and purpose for her community. This distinguishes her because her commitment to the arts of Tibet has been and continues to be unwavering and impactful to those she encounters. She can be found on many Sundays teaching classes in Richmond through the Tibetan Association of Northern California (TANC) where she served as Vice President. She has taught in a program designed for 204 students ages 2-18 since 1989 when she first arrived to make the Bay Area her new home. The Dalai Lama named the school Namchod Kyetsel or "Garden of Intellects" which as a Tibetan language school wisely includes the teaching of song, dance, and music. As is the case so often with the National Heritage Fellowship, the award is a powerful validation of a whole cultural community. While the Bay Area community is estimated to be around 3,000 strong, recognizing Ms. Wangmo's artistic impact as a Tibetan traditional artist would be felt across the Tibetan exile community, as well as illuminating the beauty of power of Tibetan culture on an international scale.
* The O-1 visa is for the individual who has extraordinary ability in the sciences, arts, education, business, or athletics, or who has a demonstrated record of extraordinary achievement in the motion picture or television industry, and has been recognized nationally or internationally for those achievements.