ACTA made 17 awards through the Sankofa Fund for Cultural Preservation in a new program supported by the San Francisco Arts Commission. The Sankofa Initiative is a re-granting program of the San Francisco Arts Commission's Arts Impact Endowment to support the healing and creativity of communities of color most affected by COVID-19.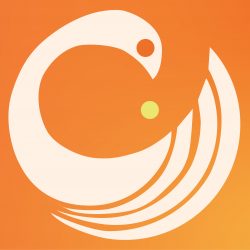 The concept of "Sankofa" is derived from King Adinkera of the Akan people of West Africa. Sankofa is expressed in the Akan language as "se wo were fi na wosan kofa a yenki." In a literal translation this means "it is not taboo to go back and fetch what you forgot."
Acknowledging that our heritage, legacies, ancestors, mentors, and communities are bedrocks of who we are and contribute to our creativity, the grants were made in October 2021 and are intended to support work that is centered around what each community values as important. These practices involve many aesthetic forms, value systems, and languages.  The Sankofa Fund is designed for the continuity and transmission of the collective values of your community.
Meet the Inaugural 2021 Grantees!
Individual Awardees:
Genny Lim ($1,575)
Support to facilitate weekly writing workshops held at the  Japanese Cultural and Community Center of Northern California or online for Asian American seniors on the themes of "Memory, Meaning and Memoir" will preserve the stories of those who have lived through critical moments in US history chronicled through  memoirs and poetry.
Sheng Lor ($12,000)
"Patterns of Transformation" is a refugee community story-cloth project. It will leverage Hmong indigenous textile forms and visual language to explore memory, trauma, and healing in diasporic, Asian, indigenous and newcomer communities.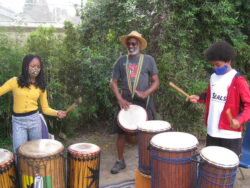 Wilfred Mark ($8,000)
Hailing from Trinidad, Wilfred will provide drum and dance instruction for grades K-6 at Meadows-Livingstone School, an Afrocentric public school in San Francisco.
Rachel Lozada Matillano ($12,000)
The Inabel-nga-Indayon Taoid Project offers traditional Ilokano weaving workshops and apprenticeships to the Filipinx-American community. Four workshops held in San Francisco will include: an introduction on the cultural and historical significance of Ilokano weaving, lessons on designs and symbols, and a hands-on component where participants learn basic weaving steps using pedal and table-top looms.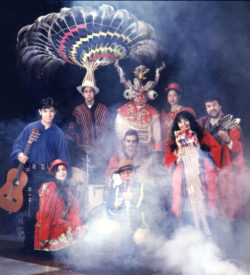 Quentin Navia ($10,925)
Eddy Navia is one of the three living legends on the 'charango,' a Bolivian string instrument, and founder of the musical group Sukay specializing in the music of the Andes. Funds will support a 50th anniversary concert month of performances and the curation and compilation of the ensemble's musical history into an hour-long documentary.
Truc Nguyen ($12,000)
A multimedia, narrative-driven live performance will feature the voices of family members who survived the war in Vietnam. In addition to the live component, there will be an audio piece and a video.
René Peña-Govea ($9,500)
Drawing on forms of folk music like corridos, rancheras, and cumbias, René, along with her six-year-old son, composed twenty original songs and performed them with her family on three seasons of local TV and on the SF Unified School District show, "SF Loves Learning," during the pandemic. Funds will support a high-quality recording released in a digital and limited run CD format to reach more children and families. Plans are to celebrate the release of the CD with a live community event in the Mission district.
Kimberly Requesto ($12,000)
Online and in-person workshops and dance circles will connect community members with practitioners who specialize in Pangalay dances from ethnic groups originating in the Sulu Archipelago in the Southern Philippines.
Chun Yu ($12,000)
"Paper Son Soldiers" is a multi-media project presenting the true story of two Chinese American brothers, both paper sons turned soldiers who fought for the country during WWII, and came back to build their families in San Francisco, living to over 100. To preserve tradition and cultural heritage, project animator A. Wong's father spent years compiling the Wong family tree that dates back to 945 AD. Following in the same tradition, the project will focus on the older generations' story of survival and endurance in becoming part of the grand experiment of American democracy triumphing over racism.
Organization Awardees
Afro Urban Society ($11,250)
Obi gbawara'm//My Heart Shattered or What happens after I die?' (OGB) is a multimedia performance and cultural documentation project reactivating cultural practices and artifacts rooted in the Igbo traditions of Ọdịnanị and Ọmenala, as well as Afro-Diasporic/Black cultural practices, as a point of departure for examining heartbreak and grief and explore what survival and liberation looks like for people of African descent. Funds will support oral histories and story line development from these sources.
Benin To The Bay ($11,250)
"From Afro-phobia to Afro-futurism" is the theme that animates a multi-day event bringing practitioners of Afro-Diasporic traditions together with Queen Mother from Benin. Features of the event include creating altars from Haiti and Benin, as well as tracing roots of Lindy Hop, an African American dance form reflecting the connections between diaspora and African practices. Events will be live streamed and in-person.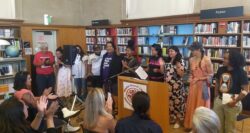 Chrysalis Studio/Queer Ancestors Project (QAP) ($11,250)
The Queer Ancestors Project provides two free programs for transitional age youth combining arts education and the study of Queer and Transgender history, with the goal of forging sturdy relationships between LGBTQ2S+ people and elders in the community. For LGBTQ2S+ people, storytelling has long been an essential aspect of practice, given that historically it was not always safe to write these stories down. The program pairs teaching artists and youth in an apprenticeship of 14 sessions.
Dance Brigade (AKA Dance Mission Theater) ($11,250)
DMT will collaborate with its neighborhood Head Start preschool, Centro de Alegría to provide weekly dance classes to students, ages 3-5 years old. Classes will focus on Pan-American dance and movement, or "dances of the Américas," highlighting traditions from different countries and peoples of Latin American. DMT will also work with parents in addition to the students, inviting them to monthly "open houses" so that they can learn exercises and dances to do with their children.
Duniya Dance and Drum Company ($11,250)
The 4th African Arts Festival features traditional performing arts groups representing different regions of Africa and the African diaspora. Vendors will sell traditional wares such as clothing, instruments, jewelry, and food. Public service and advocacy groups will be on hand as well as a free shuttle service, free parking, and accessibility accommodations will be present at MacLaren Park.
Instituto Familiar de la Raza ($11,250)
Culture bearers of traditional indigenous medicine provide a unique approach to community health and wellness for the Chicanx/Latinx/Indígenx community. As elders retire, IFR seeks to ensure continuity of these oral traditions by developing a process to pass oral teachings to staff members with the establishment of El Camino a la Medicina Tradicional (The Path to Traditional Medicine) program.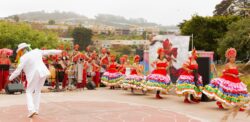 Jamestown Community Center ($11,250)
Loco Bloco, the artistic program of Jamestown Community Center in the Mission District, will provide performance instruction between January and May 2022 for the Carnaval San Francisco Festival + Parade, May 2022. Participants represent all ages and artistic experience levels and number between 100-300 dancers, drummers, and stilt walkers.
Kearny Street Workshop ($11,250)
KSW is preserving the history of Asian Pacific American (APA) community members through oral histories, digital archives, and podcasts. The focus is on the emergence, growth, and future of the Asian Rights Movement.