Communities of Change
Traditional Arts as Enduring Social Practice in California's Bay Area

A new publication of the Alliance for California Traditional Arts
Researched and written by Lily Kharrazi & Amy Kitchener
Commissioned by the William and Flora Hewlett Foundation, 2022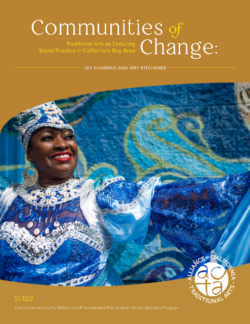 ACTA's newest publication, Communities of Change: Traditional Arts as Enduring Social Practice in California's Bay Area, was commissioned by the William and Flora Hewlett Foundation to examine the traditional arts landscape of the greater Bay Area. What began as an internal report to inform and guide the planning and design of the Hewlett 50 Arts Commissions for Folk and Traditional Arts, can be found here in an expanded version.  It is intended for those seeking to learn more about this rich field.  We invite funders, cultural workers, arts administrators, policymakers, curators, traditional artists, and activists who engage with a diversity of peoples, aesthetics, languages, and locations to look at the content with their own communities in mind. 
The commissions were launched in 2017 to honor the Foundation's 50th anniversary.  The five-year, $8 million initiative awards10 commissions annually in five performing arts disciplines including music, theater, dance and movement based performance, folk and traditional arts, and media arts. As long-time advocates and grantmakers to California's traditional arts field, we at  ACTA understood that the inclusion of folk and traditional arts was noteworthy among the creation and premiere of 50 exceptional new works by world-class artists in partnership with Bay Area nonprofit organizations. The Hewlett Foundation was making a strong commitment of resources to an underserved sector, and very importantly making a statement about the value of art-making beyond Eurocentric models that dominate most arts funding initiatives.
Communities of Change discusses and interrogates definitions and terminology, and describes case studies illustrating some of the larger issues and nuances inherent in this discipline, such as tradition and innovation, Native California practices, concepts of indigeneity, and cultural immersion as a teaching model. We list major cultural communities and related art forms across the wide band of 11 Bay Area counties, and share snapshots illustrating the contours on a county-by-county basis. Finally, we conclude with recommendations and implications for the broader arts field and the philanthropic sector. 
The report is by no means a comprehensive inventory but the information is culled from the trust that artists, culture bearers, community organizations, and funders have put in ACTA by inviting us into their communities, conversations, commemorations, intimate ceremonies, and to their kitchen tables in order to understand what values do indeed endure over time and generations through their arts practices.
---
Download the Communities of Change Report
or view the report via our interactive magazine view below.