Two-Step Application Process
The Hewlett 50 Arts Commissions application is hosted on the Submittable online platform. Details on how to register and get started on your application will be available on this webpage beginning on January 22, 2021.
Step 1: Letter of Intent
Eligible nonprofits and lead artists may submit an online Letter of Intent (LOI) beginning on January 22, 2021. The deadline for submitting the LOI is March 8, 2021. A national panel will review all LOIs and make recommendations for up to 25 applicants to submit full proposals for award consideration.
Step 2: Invited Full Proposal
By April 15, ACTA will invite up to 25 finalists to submit full proposals. The deadline for submitting full proposals is May 18, 2021.  The full proposals will give the finalists an opportunity to develop their projects with a more detailed work plan, budget, and memorandum of understanding between the lead organization and lead artist. Additional work samples will also be requested as part of the full proposal. A second national review panel will make recommendations to the Hewlett Foundation, which will make the final decisions on the 10 awards.
Submit a letter of intent – click below!

IMPORTANT NOTE FOR APPLICANTS: The Submittable support options have changed and a phone line is no longer available for applicants. To streamline the response process, we now recommend you access the submitter help page.
What are folk & traditional arts?
Folk and traditional arts are expressions that are learned as part of the cultural life of a community. Members of these communities may share a common ethnic heritage, cultural mores (customs), language, religion, occupation, or geographic region. These traditions are shaped by the aesthetics and values of a shared culture, and are passed from generation to generation through observation, conversation, and practice. These expressions are often passed on through oral tradition and represent time-honored vernacular education systems. Traditional arts flourish as they continually change and adapt to new settings and circumstances while remaining informed by shared ancestral knowledge.
Forms as diverse as Ohlone basketry, gospel music, Japanese koto music, Oaxacan mask making used in dance-ritual, as well as queer voguing are all examples of folk and traditional arts. Each of these expressions is strongly rooted in specific tribal, ethnic, regional, or cultural communities.
The Hewlett 50 Arts Commissions initiative seeks to support a wide variety of traditional art forms to show the breadth and creativity of living practices rooted in cultural communities.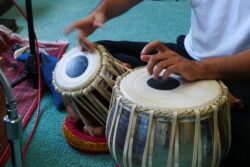 Eligibility – Who can apply
The cornerstone of a Hewlett 50 Arts Commissions application is the partnership between a lead applicant and a lead artist.
LEAD APPLICANT
The lead applicant must be a nonprofit 501(c)(3) charitable organization headquartered in one of eleven Bay Area counties: Alameda, Contra Costa, Marin, Monterey, Napa, San Francisco, San Mateo, Santa Clara, Santa Cruz, Solano, or Sonoma. The lead applicant will apply with a lead artist who can live anywhere in the world. Applications from nonprofit organizations that are not exclusively focused on the arts are welcome and encouraged.
The lead applicant must have an average annual operating budget of $50,000 or greater for fiscal years 2018 and 2019.
The lead applicant must upload a copy of their IRS determination letter showing they are a 501(c)(3).
The lead applicant must upload either an audit, or a balance sheet and profit and loss statement for the organization's 2018 + 2019 fiscal year.
The lead applicant organization will submit the application, enter into the grant agreement with the Hewlett Foundation, and be responsible for commissioning the lead artist and managing the project to successful completion. A lead applicant organization may collaborate with other organizations.
Fiscal sponsors: Entities without nonprofit status, or those with organizational budgets under $50,000, may apply through a fiscal sponsor that meets the eligibility requirements. Fiscal sponsorship is an arrangement between a 501(c)(3) nonprofit organization (the fiscal sponsor) and a charitable project. The fiscal sponsor serves as the lead applicant. Learn more about fiscal sponsorship models here.
A fiscal sponsor may be a lead applicant for multiple fiscally sponsored projects. Additionally, a fiscal sponsor may also choose to apply for its own project. A fiscal sponsor may not apply for more than one of its own projects.
LEAD ARTIST
The lead artist is the person primarily responsible for the creation of the commission. The lead artist may be based anywhere in the world. Individual artists are not eligible to apply directly—they must partner with a lead applicant organization, which would receive the commissioning award from the Hewlett Foundation and commission (pay) the lead artist to create the new work. Projects with a lead artist that is currently a student, or with performers that are predominately school-age students (K-12 and college), are not eligible to apply.
A key feature of the 50 Arts Commissions is that the lead artist fee must be at least $50,000.
Lead artists who have been awarded a Hewlett 50 Arts Commissions award in the past cannot be lead artists for this commission, but they can be collaborating artists.
PROJECTS
The proposed project must not be a current or past grant recipient of a Gerbode Special Award in the Arts or the Creative Work Fund. Lead applicants and lead artists may apply for a Hewlett 50 Arts Commissions for a project that has not been funded by the Gerbode Special Award in the Arts or the Creative Work Fund.
---
Have a question? Contact Lily Kharrazi, ACTA's Director of Special Initiatives
50Chelp@actaonline.org | (415) 244-5207