Voice of Roma
Romani arts and culture
About the Organization
The Roma, often called "Gypsies," are a stateless ethnic group who originated in and migrated from northern India over 1,000 years ago.  They now live all over the world and are the largest minority group in Europe; there are at least one million Roma living in the United States.  The cultural arts traditions created and developed by the Roma over centuries of (usually forced) migration include a phenomenal array of music and dance forms, such as the most popular Balkan brass band music, Flamenco, and "Gypsy Jazz."  This ethnic group's living culture is informed by a history of oppression, slavery, discrimination, ethnic cleansing, and genocide.  Anti-Roma prejudice and myths about evil, passionate, exotic "Gypsies" persists even today.  Against this background, a worldwide movement is working to increase recognition for and preservation of Romani cultural arts and traditions, thus building a sense of ethnic pride, history, and strength among the Roma.  Voice of Roma is not only unique as a Romani cultural arts and education organization in the United States, but is at the forefront of this larger movement.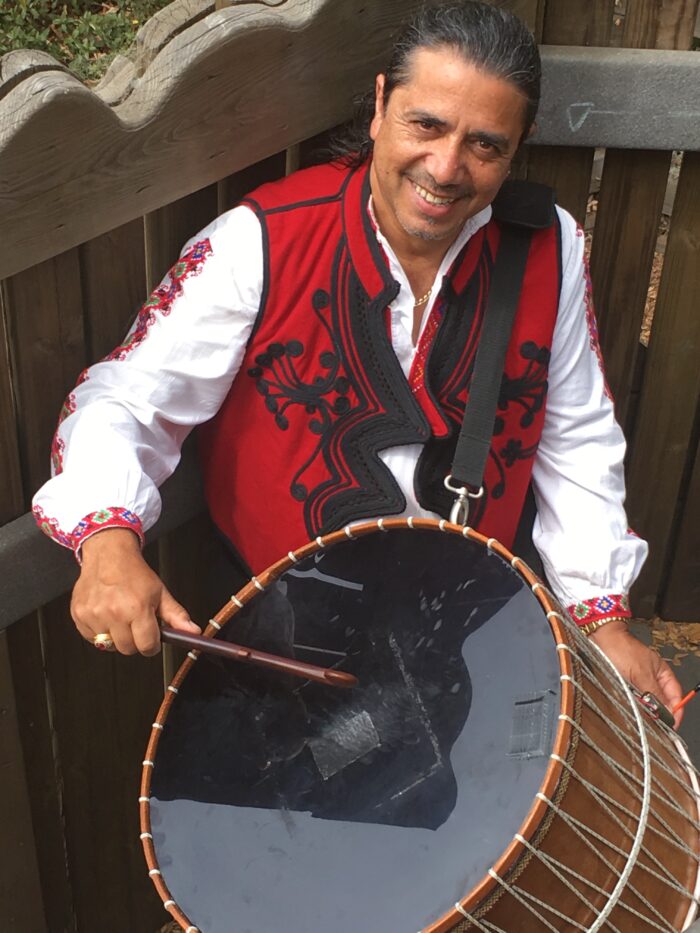 Voice of Roma was founded in 1996 in order to organize and promote artistic, educational, and charitable projects for and about Roma, and to raise awareness of human rights issues faced by Roma today.  Every Voice of Roma cultural arts event is designed to counter both romanticized and negative stereotypes about "Gypsies" and provide opportunities to learn about the real Romani people and culture.
One of Voice of Roma's most popular events is their annual Herdeljezi Festival.  Herdeljezi, an extremely important Romani tradition, is a neighborhood celebration of the spring-summer season.  For centuries, Roma have held Herdeljezi outdoors in early May, playing music, dancing, cooking, and eating with their family and neighbors.  Celebration of this holiday have all but disappeared amongst Roma in the United States.  Voice of Roma has revived this tradition, extending the holiday to the larger community, with the goal of preserving and supporting Romani cultural traditions; promoting and presenting Romani cultural arts and folk traditions authentically, respectfully, and within their cultural context; increasing attendance and media attention; and documenting the festival professionally.
In 2004, Voice of Roma participated in ACTA's Tradtional Arts Development Program with consultant Joe Benham to renovate the organization's website as well as provide training to Voice of Roma staff in the maintenance and updating of the website.
Rumen "Sali" Shopov takes a tapan/davul solo in a set with the Turkish Romani duo Tamer & Hasan at the East European Folklife Center's Balkan Music and Dance Workshop in Iroquois Springs, NY.
Living Cultures Grant
2022
Pulse of the Mahala: Balkan Romani Drum Choir Project
Voice of Roma, supported by ACTA's Living Cultures Grants Program in 2022, will engage master Balkan Romani drummer, drum-maker, multi-instrumentalist, singer, bandleader, composer, dancer, and music instructor Rumen "Sali" Shopov. Shopov will create a set of large double-headed tupan/davul drums to be used in a series of ten Balkan Romani Drum Choir workshops and 2023 Balkan community-based performances.
2012, 2011, 2010, 2009, 2008, 2006
Herdeljezi Festival
As a grantee in ACTA's Living Cultures Grants Program in 2012, 2011, 2010, 2009, 2008, and 2006, Voice of Roma received support for its annual Herdeljezi Festival.
Gallery
Next slide