Ramya Harishankar
South Indian bharata natyam
Ramya Harishankar combines the elegance, grace, and suppleness of the Vazhavoor School of Bharata Natyam with the distinctive ability to express all shades of emotion with sensitivity and intuition. She has imbibed these qualities under legendary gurus: the late Swamimalai K. Rajaratnam and late Padma Bhushan Kalanidhi Narayanan. Along with receiving several prestigious grants from the National Endowment for the Arts (NEA), California Arts Council, Fund for Folk Culture, and the Alliance for California Traditional Arts, Harishankar is a two-time NEA Choreographic Fellow.
Harishankar founded the Arpana Dance School and the Arpana Dance Company (ADC) in Orange County. After ADC turned 40 in 2022, Harishankar and Harish Murthy were recognized as "Distinguished Citizens" for their contributions to the cultural landscape of the city of Irvine and added to its Wall of Recognition. Previously, ADC was recognized as an LA Milestone Company for sustaining more than 25 years of professional participation in performance, leadership, and service to the greater Los Angeles community. The company has performed extensively in the United States, India, Europe, and Japan. Its productions, tours and participation in performances have raised over $150,000 for worthwhile charities.
In 2007, Harishankar received the Helena Modjeska Cultural Legacy Award from Arts OC, the county-wide arts agency. Since 2005, she has co-convened four Indian dance symposiums in California titled Dance Conversations. She has also participated in the Arts Teach program under the Segerstrom Center for the Performing Arts' Education Department since 1990. Since her Arangetram in 1970, her solo performance career of nearly five decades has led her around the world: to India, South East Asia, the Far East, Europe, the Middle East, Australia, Canada and the United States.
During the pandemic, Harishankar embarked on a variety of creative paths. Her short films on climate change, Bhumika and Aasha, until we meet again (20th anniversary of 9/11) have received numerous nods at film festivals and were featured in many 'dance film' festivals. "Dance Conversations," a 10-part podcast, explored her legacy through conversations with colleagues, collaborators, and mentors. Her workshops and teaching expanded across the globe and contributed to the cause of starving artistes.
As the founding/board member of the Ektaa Center, an arts and cultural center in Irvine, Harishankar has hosted several hundred artists, local and global, bringing the best of Indian performing arts to Southern California.
---
Apprenticeship Program
2022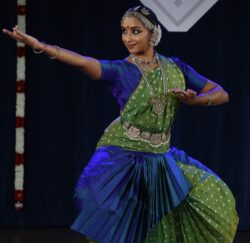 Bharatha Natyam & Carnatic Music
with apprentice Visalini Sundaram
As part of ACTA's Apprenticeship Program, Ramya will instruct apprentice Visalini Sundaram in the art of narration, communication, and singing. Using these techniques, Sundaram will bring to life a short performance that combines both dancing and singing of traditional compositions a la the "devadasis," or hereditary dancers.
2010
Bharata Natyam
with apprentice Sumona Vohra
As a master artist in ACTA's Apprenticeship Program in 2010, Ramya worked with apprentice Sumona Vohra.  Their apprenticeship focused on individualized training to learn various pieces within the bharata natyam's classical repertoire.
2002
Bharata Natyam
with apprentice Trisha Banerjee
In 2002, Ramya was a master artist in ACTA's Apprenticeship Program with apprentice Trisha Banerjee.  During their apprenticeship, Ramya and Trisha prepared a margam, a program of seven dances presented as a full-length solo performance of two hours.  Of her apprenticeship with Ramya, Trisha says, "Bharata natyam plays a tremendous role in my life.  Outside school, it is where I spend all my time, putting forth hour after hour into practicing.  It is the place in my life where I find the most joy and happiness!"
---
Select Performances
Bridge projects (2022), Los Angeles
Spector Dance (2022), Carmel Valley
Awe & wonder (2021), Los Angeles
SHE (2019), Santa Ana
Celluloid Classics 2 – before and beyond bollywood (2017/18), Irvine, San Jose, San Diego, Fullerton, Columbus, Ottawa
Family Day, Getty Center (1997-2005), Los Angeles
Accomplishments
2022 Distinguished Citizen, Wall of Recognition, City of Irvine
2022 Lifetime Achievement Award, Soorya Foundation, Los Angeles
2012 Kala Seva Bharathi, Bharat Kalachar, Chennai, India
2007 Helene Modjeska Cultural Legacy Artist Award, Arts OC
Artist's Support Grant, Fund for Folk Culture, 2005
Outstanding Artist Award for 2002, Arts Orange County, 2003
Creativity Grant, National Endowment for the Arts, 2002
Disney Artist in ARTS TEACH Roster, Orange County Performing Arts Center, 2002
Traditional Folk Arts Grant, California Arts Council, 2001 and 2003
ACTA's Apprenticeship Program Master Artist, 2002 and 2010
Choreographer's Fellowship, National Endowment for the Arts, 1994 and 1996
LA Milestone Company (ADC), the L.A. Board of Supervisors & the Dance Resource Center of L.A.
Teaching Experience
Private Instructor, 250+ students, 1982-present
Artist in Residence, San Bernardino School District, 2004-2005
Visiting Faculty, Department of Dance, University of California Irvine, Winter 2004, 1999, and 1994
Assemblies in schools throughout Southern and Central California, 1989-2005
Professional Services
Mentorships
Creates commissioned work
Demonstrations
Lectures
Educational presentations to schools or community organizations
Performances
Cultural consultancies
Workshops and classes (live and online) for students across the globe
Gallery
ACTA Board Member Dan Sheehy with Ramya Harishankar.
Visalini Sundaram getting expert comments and feedback from her teacher Ramya Harishankar after her solo production in August 2018. Photo courtesy of Ramya Harishankar.
Both Harishankar and Sundaram sharing the stage as the musical ensemble for their dance school's annual recital in April 2022. Photo courtesy of Ramya Harishankar.
Next slide