Nadia Ysabel Calmet
Afro-Peruvian Experience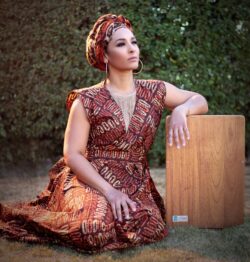 Nadia Ysabel Calmet first learned the artistic expressions of traditional Afro-Peruvian percussion and dance in her grandparents' home, where such practices were part of her family's celebrations. At the age of 15, she began to study for a professional dance career. She has continued to develop her skills in percussion and dance for more than twenty years. In this Afro-Peruvian ancestral legacy, Calmet found a tool for social transformation and a source of wisdom for understanding, discovering, and dealing with social-cultural problems. To Calmet, Afro-Peruvian percussion and dance allow people to make cultural diversity visible, connect with the great networks of wisdom within the African diaspora, and demonstrate the continued vitality of their ancestors' tools.

Nadia Calmet and an ensemble featuring cájones, cajita, quijada instruments, and Afro-Peruvian zapateo for the Utah community in 2021.
---
Apprenticeship Program
2022
Traditional Afro-Peruvian Percussion and Dance
with apprentice Evelyn Johana Karahalios
During her apprenticeship with Calmet, Evelyn Johana Karahalios will contribute to and foster knowledge about the cultural diversity of Peru through its Afro-Peruvian artistic expressions, including cajón (large box), cajita (little box), zapateo (foot percussion), and quijada de burro (jawbone). Calmet and Karahalios will explore the non-verbal forms of communication by which their African ancestors resisted the oppression of slavery and how, through responsible preservation and dissemination, these practices can become enduring mechanisms of resilience.