Elhadj Malik Sow
West African (Fulani) drumming
The Fulani are an ethnic group of people spread over many countries, predominantly in West Africa, but found also in Central Africa and Sudanese North Africa.  The Fulani have a rich musical culture and play a variety of traditional instruments, including drums.  Drumming is used to produce healing, communication, accompaniment for dancers, and entertainment.
Master drummer, composer, and choreographer Elhadj Malik Sow, born in Dakar, Senegal, hails from the Fulani ethnic group of West Africa.  Coming from a line of musicians and griots, Elhadj received training from his uncles until he was ten, and subsequently began a career in cultural exchange amongst the Jola, Bambara, Sosey, Serrer, Wolof, and others, becoming well versed in their folklore and customs.  Elhadj has performed or taught traditional West African music since 1960.  During his career, he has worked with the Ballet d'Afrique Noire, the National Ballet of Senegal, and Les Ballets Africains.  Currently, he directs the Futa Toro West African Dance Ensemble, which tours extensively.
---
Apprenticeship Program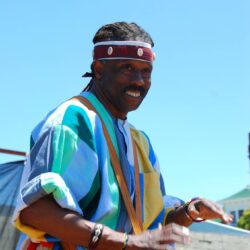 2022
Senegalese Djembe Drumming and Dance
with apprentice Abdullahlatif Bell Tounkara
During this apprenticeship, Elhadj will teach his apprentice and nephew, Abdullahlatif Bell Tounkara, the origins of the djembe drum, the musicality of its design, how to tune and play it, the cultural context of djembe "griots" and storytelling, and the choreography of traditional dances. Abdullahlatif will also develop his own personal "griot" style and participate in a public performance with Lula Washington Dance Theatre students.
2009
West African (Fulani) drumming
with apprentice Magatte Sow
In 2009, Elhadj participated in ACTA's Apprenticeship Program with his son, Magatte Sow.  During the apprenticeship, in addition to working with advanced drumming rhythms, Elhadj guided his son through cultural teachings and some of the initiations Elhadj himself went through in Senegal, preparing Magatte to follow in his father's footsteps as an educator and cultural ambassador.