Lal Singh Bhatti
Punjabi music and dance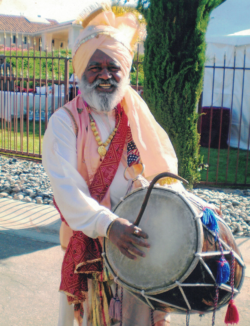 Lal Singh Bhatti of Stockton, CA, is a master artist of Punjabi Bhangra music, specifically the dhol drum. Bhangra is a traditional dance and music from Punjab in India and Pakistan. Traditionally Bhangra, a dance for men, celebrated the harvest, particularly at an annual festival called Vaisakhi. Now it is played and danced for every celebratory occasion by all genders and ages, especially at weddings. Punjab had several regional dances such as Luddi, Jhummer, and Dhamaal; after the Partition of India and Pakistan, when many Punjabi people were forced to leave their homes and moved to refugee camps, these regional dances became amalgamated into Bhangra, although these specific regional dances and music are still taught by masters such as Bhatti. The Bhangra drum is called dhol and it is played with sticks on either side. The player of the drum is called the dholi. The dhol is the heartbeat of the music. Usually the music also includes one or more vocalists, chimta, tumbi, dholak, etc.
Bhatti started learning to play dhol when he was around eleven years old. As is the case with many cultural forms, Bhangra was around him throughout his life and much of what he learned was from seeing, hearing and experiencing the music in his community. In addition, Bhatti's older brother played dhol and had a big influence on him. Bhatti also claims Ustad Harbans Jogi, a highly respected dhol master from Amritsar, Punjab, as one of his teachers. Bhatti played in several groups in both high school and college. Before he immigrated to the U.S. in the 80's, Bhatti performed with groups at Khalsa College, Hoshiarpur College and others.
According to Bhatti, the drum is his soul—playing the dhol is not simply creating music, but is also a form of worship. There is no separation for him between his instrument and himself. Being a musician is the only career Bhatti has had in his life; it is indistinguishable from his being. As a father he has passed on the tradition of playing dhol to his son Ravi and he places great importance on keeping the tradition alive by teaching the younger generations.
Lal Bhatti Singh (left) plays dhol with his son.
---
Apprenticeship Program
2021
Punjabi Music and Dance
with Joti Singh
Bhatti will teach Singh, a Bhangra dancer, various techniques of the dhol, such as the alternative hand positions, go in depth about the sub-rhythms that make up Bhangra, and teach her several boliyaan, which are verses that accompany the instrumental music. Although known primarily as a drummer, Bhatti is also a traditional dancer and will teach Singh how the specific music she is learning to play accompanies the dances she knows. Since Singh grew up in the USA and that is where she has learned Bhangra dance and music, Bhatti will give her even more cultural context for the dances, such as the regions of Punjab where they come from and how they have evolved over time. In addition, since Bhatti is most comfortable speaking Punjabi, Singh will be able to practice deepening her language skills as well.