Ji Yun-Ja
Korean Gayageum Sanjo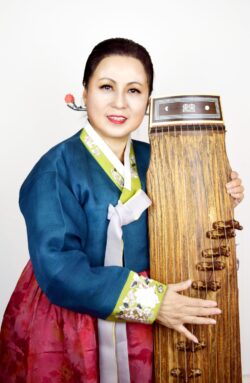 For Ji Yun-Ja, the gayageum is her whole life; it is the air she breathes. Her mother, Sung Geum-Yun, was a master of the gayageum and a "Living National Treasure," designated as upholding and preserving intangible cultural heritage by the Korean national government. As such, Ji learned the gayageum from the womb; she formally started studying the instrument in middle school in Seoul, South Korea. Ji's mother taught her not only her own rendition of the sanjo (a traditional musical form which every gayageum player must learn and practice throughout their lives), but also her own traditional compositions. Ji continues to pass these compositions down to her students.
"Gayageum Sanjo" by Ji, Yun-ja.
---
Apprenticeship Program
2022
Korean Gayageum Sanjo
with apprentice Joyce Kwon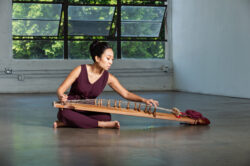 Ji will work with Joyce Kwon on the sanjo form, which consists of a number of movements and rhythms, to enable Kwon to play all manner of traditional Korean music on the gayageum. As the sanjo is a lifelong practice that even the most advanced musicians continue to play, this apprenticeship will prepare Kwon to continue growing as a traditional gayageum player in the years to come.