Jesus Cortez
Zapateado Jarocho
My mission has always been to… form the next generations of artists and give them the necessary tools to be good people while learning about their roots through our ceremonial and traditional dances."

– Jesus Cortez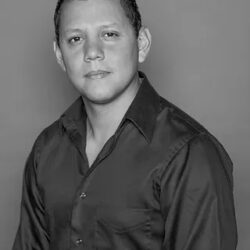 Jesus "JACOH" Cortez began his training in Mexican folk dance when he was six years old, under the direction of his great uncle, Juan Natoli, in Veracruz, Mexico. Trained as a Deer Dancer by Lucas Zarate Lobato, in 2000, he became a soloist in The Deer Dance ("La Danza Del Venado") for Ballet Folklórico de Mexico de Amalia Hernandez in the Palace of Fine Arts in Mexico City. He has toured Mexico, Europe, and the United States. Along with being an artist in residence with the San Francisco Unified School District and Brava Theater, Cortez is the founder and artistic director of Cuicacalli, as well as the lead teacher and choreographer for Cuicacalli's Ballet Folklórico and Contemporary Dance program. ​
Cuicacalli Dance Company and Los Sonex, San Francisco Son Jarocho, 2015
---
Apprenticeship Program
2023
Zapateado Jarocho
with apprentice Cecilia Cassandra Peña-Govea (La Doña)
During this apprenticeship, La Doña will study beginning to advanced technique with zapateado moves; learn the choreographies for the most popular sones; and understand the compositional form of Sones Jarochos. La Doña will also help teach Cuicacalli youth classes. Their apprenticeship will culminate in two joint presentations of zapateado accompanied by live musicians.