Faye Carol
Blues Music
Faye Carol was born in Meridian, Mississippi. Blues is the traditional cultural expression of Black people in America. The art form originated in the post-slavery South with roots in work songs, spirituals, field hollers, and shouts. Formalized by W.C. Handy around the turn of the century, it is characterized by a three-chord harmonic structure and a 12 bar format, though other forms are also prevalent. During the 20th century the blues spread across the country, developing into regional styles in Chicago, California, Kansas City, and New Orleans. The art form is exemplified by instrumentalists and singers alike including such notable practitioners as B.B. King, Professor Longhair, Bobby 'Blue' Bland, Koko Taylor, Robert Johnson, and Muddy Waters. She describes Blues as a language, feeling, form, and a carrier of the history of a people including stories of joy, romance, sorrow, and protest.
"The blues is the music of my culture. It is the music with which I have made the entirety of my living, as a singer, performer, and educator for over 55 years." – Faye Carol
Apprenticeship Program
2021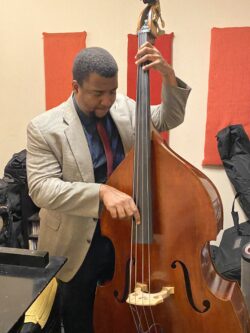 Faye Carol will be working with James Wiley in learning and covering a thorough study of the blues.  They are both members of the Bay Area's (specifically Oakland/Berkeley) Black musical community and have a strong family association as Carol served as a mentor to Wiley's brother Howard Wiley, now a professional saxophonist, drummer, bandleader, recording artist, and educator. Through her mentorship of Howard Wiley, has known James Wiley and observed his musical development since his early childhood. Through these associations, Carol and Wiley share a common heritage, occupation, and cultural community.
Together, they will cover blues history; the role of the bass in a blues ensemble; producing a strong blues sound from the bass; stylistic nuances of regional styles from Mississippi, Chicago, Kansas City, Oakland, Texas, and New Orleans; rhythms and forms, improvisation and soloing techniques; bass-lines and ostinatos; stylistic variations from diverse time periods including traditional rural blues and city blues; information and repertoire from prominent blues practitioners including Willie Dixon, Dinah Washington, Ma Rainey, Koko Taylor, and Little Willie John; and application of blues techniques to popular music. Over the course of the apprenticeship, Faye will prepare James to present "The Many Grooves of the Blues," a 60 minute set of music demonstrating the repertoire and techniques studied.