Farah Yasmeen Shaikh
Kathak Dance
Farah Yasmeen Shaikh of Menlo Park began her study of kathak with Pandit Chitresh Das at the age of 18, in 1996, while doing her undergraduate studies at San Francisco State University. Kathak is one of the eight classical forms of South Asian dance and is composed of powerful movement and technique using percussive footwork and rhythms rooted in the South Asian classical music system, and is juxtaposed with subtlety and grace. Also inherent in kathak is storytelling through mime and expression, drawing on the rich culture and stories of ancient India. Historically taught in the Guru-Shishya Parampara (one-to-one training), and when the student is ready for performance, the ultimate goal being to perform solo, displaying all the required elements of the art form.
Farah was able to devote a great deal of time to kathak from the beginning of her study, and by 1998 was an apprentice in her Guru's company (the Chitresh Das Dance Company), a teaching assistant at SFSU, and instructor in his school, Chhandam. Farah began touring nationally and internationally with his company in 1999, and eventually as a soloist as well. Her debut solo in October 2007 was also a result of an ACTA Apprenticeship award from ACTA when she studied as an apprentice under Chitresh Das. For close to 25 years now, Farah's life has been studying, practicing, training, and performing kathak. She creates original choreographic works based in the traditional kathak style, and she performs and teaches internationally. Since 2015, Farah has been working extensively in Pakistan, bringing kathak to generations that may have never experienced it due to conservative political and religious regimes.
In her own words: "I feel I am conduit for the dance to influence positive change through artistic participation, and as my Guru ji did. I humbly accept the responsibility of passing on this tradition. Having spent close to twenty years, I proudly possess a deep connection to the technique, knowledge and history of kathak in a way that is not common, even in India. I also bring a unique perspective of being a Pakistani American Muslim woman, developing work that is personal, but connected to kathak, focusing on aspects of the Mughal period – a hugely influential time on the style of kathak. This, along with my work on the India-Pakistan Partition, has allowed me to develop new audiences in the Muslim and Pakistani community in the Bay Area and abroad, making my work more accessible and relevant to them. As majority of my students are Indian American and Hindu, my work has contributed to bridging the gap within the South Asian community of Pakistanis and Indians through this shared artistic tradition."
Farah Yasmeen Shaikh performs a kathak solo in Karachi, Pakistan, in 2016.
---
Apprenticeship Program
2021
Kathak dance
with apprentice Athena Nair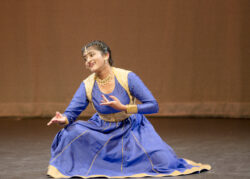 The focus of the apprenticeship is to prepare Athena to step into the role of solo performer, choreographer, and educator, through intense 1:1 training sessions focusing on the vigor of the physical technique and the pedagogical framework, providing Athena with the tools to choreograph and compose for her own performance content; deeper education on the theoretical and historical context of performance; and choreographic mentorship while Athena works with younger dancers. Athena will be expected to conduct additional research, generate movement in the kathak framework, and develop her teaching skills through training younger dancers, with consistent check ins with Farah, culminating into a solo performance by Athena in the summer of 2021.
2018
Kathak dance
with apprentice Sreoshi Sarkar
Farah worked with Sreoshi Sarkar to prepare Sreoshi for a traditional Kathak solo.