Claudio Vega
Traditional Son Jarocho Music
Traditional Son Jarocho Music
I learned this music like learning a language… it is something sensory… something we feel from the depths of our soul." – Claudio Vega
Claudio Vega learned son jarocho in Boca de San Miguel, Veracruz, Mexico, by listening daily to his great-grandfather, grandfather, parents, and uncles play. He absorbed and imitated the music, and at the age of five, he learned the dance that is essential to it. When Vega was eight, he learned the jarana; when he was twelve, the requinto. For him, son jarocho is a form of identity—a way of expressing himself.
---
Apprenticeship Program
2023
Son Jarocho
with apprentice Dolores "Lolis" García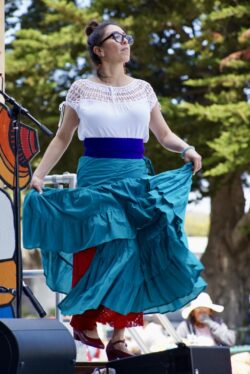 Through this apprenticeship, Lolis will learn to sing son jarocho songs (especially to lead them in a fandango); fundamental melodies, arpeggios, tangueos, and improvisation; and how to end a song. Vega and Lolis will then present the music together, so society will see a woman playing son jarocho (particularly on an instrument that in prior years she would not have been allowed to play).