Anil Natyaveda
Kalari ppayattu Martial Arts
Anil Natyaveda of Los Angeles, CA, began learning the martial art of Kalari ppayattu, or Kalari, when he was seven  in a small village in the Kollam district, south Kerala, India. Kalari is a comprehensive martial art from South India, considered one of the oldest in the world. A main aspect of its conditioning, attack, and defense system is based on animal movements. It includes breathing, meditation, wooden and metal weapons, bare-hand fighting, healing bodywork, medicinal herbs, diet, lifestyle practices, and character development. The form was influenced by martial practices dating 1800-2300 years ago. It crystallized to its fully-developed form and purpose during the 12-16th centuries, declined during European incursion, went underground after British rule in India banned it in 1804, and surfaced again with renewed strength during the 20th century by teachers and practitioners who had kept the form alive. It has influenced numerous art forms in Kerala, India. Teaching emphasizes the condition of a strong and supple body, and mind of pure awareness. Kalari is characterized by beautiful movements that veil explosive power.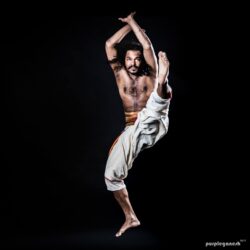 Anil's teacher was Chellappan Asan (asan means 'teacher'), and he traveled from the city several times a week to teach in Anil's town and build a school there. Anil's father put him in classes because Anil was a very physical child and was already learning dance and local fighting techniques. When Anil was 15, he moved to the state capital city Thiruvananthapuram to begin university studies in dance; at that time he started at the Kalari school in Thiruvananthapuram, CVN Kalari, under Govindan Kutty Gurukkal. The practice was six days per week, and the school focused more on the northern Kerala style. Anil also studied with Babu Raj Gurukkal throughout that time, and turned his attention to the healing and medicinal arts, which he had learned under his first guru, Chellappan Asan. Anil also studied with Vembayam Appukuttan and Sasidharan Asan.
Guru Anil Natyaveda is the Co-Director of SINDHOOR/NATYAVEDA – Navarasa Dance Theater, a premier institution for Kalari ppayattu martial art in the US. Anil is one of the leading experts in Kalari ppayattu with deep-rooted knowledge in both South Kerala and North Kerala styles of Kalari. He is a master teacher, choreographer and performer who has toured around the world with unique productions promoting Indian martial arts. He teaches in Los Angeles at Navarasa Dance Theater and also online for students around the world.
In Anil's words: "Kalari is my life. I have performed and taught Kalari across three continents for almost 25 years. As a child and adolescent I was obsessed with the form. Sometimes I wouldn't eat because I would run to the school to practice. I lived with the movements all the time. Kalari taught me to respect my teachers, my elders and humanity; it taught me how to be a proper human being and to respect everything on this earth. I teach Kalari to people of all ages and backgrounds. Kalari is my career, my passion, my body and my lens to see the world."
---
Apprenticeship Program
2021
Kalari ppayattu martial arts
with Leah Vincent
Anil and Leah's apprenticeship in Kalari ppayattu will consist of body exercises, practice with wooden weapons (short, long, and curved sticks, etc.), metal weapons (swords, shield, spear, daggers, etc.), bare hand techniques, meditation and the study of healing systems. The concentrated study time will focus on weapons, specifically the long wooden stick, short wooden stick, and small knife, and on hand combat. They will also continue building Leah's skills in the animal movements (horse, elephant, boar, snake, crow, peacock, lion, cat, fish), the combination skills (meippayatt series), breathing techniques, and healing practices.