Congratulations to the beloved California artists and advocates honored this year with the 2020 National Heritage Fellowship from the National Endowment for the Arts: masters of West African drumming and dance Dr. Zakarya Diouf and Naomi Gedo Diouf of Diamano Coura West African Dance Company in Oakland, and founder of Radio Bilingüe, Hugo Morales of Fresno!
The NEA's National Heritage Fellowship is our nation's highest honor in the folk and traditional arts. These lifetime honor awards highlight the "breadth and excellence of the artistic traditions found in communities all across the United States." We are excited to see cultural leaders with close ties to the ACTA family honored this year.
"We are thrilled to see the inspiring stories and contributions of Dr. Zakarya Diouf, Naomi Gedo Diouf, and Hugo Morales recognized by the NEA," says Amy Kitchener, Executive Director of the Alliance for California Traditional Arts. "Each of these awardees have been leaders in their field for many years, representing the deep cultural practice and robust leadership within the African diasporic and Latinx communities across the state of California."
These awards affirm the beauty, creativity, and national relevance of the artists, practices, and histories of these communities.
West African Diasporic Dancers from Oakland/Castro Valley, California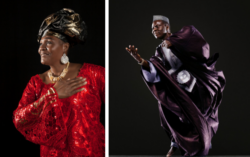 Culture bearers and artists from Senegal and Liberia respectively, Dr. Zakarya Diouf and Naomi Gedo Diouf have contributed to the practice and performance of West African dance, drum, and culture in African diasporic communities for more than four decades. Zakarya and Naomi, affectionately known as Papa Zak and Mama Naomi in their community, established the Diamano Coura West African Dance Company in the Bay Area in 1975. The company has received multiple Living Cultures Grant Program awards from ACTA to support their work in the preservation, education, and appreciation of traditional West African music, dance, theater, and culture. Zak, Naomi, and members of their company were featured in ACTA's first ever Sounds of California concert at the Oakland Museum of California in 2015. Naomi Diouf has also been a two-time mentor artist in ACTA's Apprenticeship Program: once with her apprentice and daughter Kine in 2003 and again with apprentice Nikka Maynard in 2018. Zak and Naomi's daughter Esailama Diouf is also an emeritus member of ACTA's board of directors. ACTA was honored to play a key role in nominating Zak and Naomi for the National Heritage Fellowship.
Learn more about Zak and Naomi
Radio Producer and Radio Network Builder from Fresno, California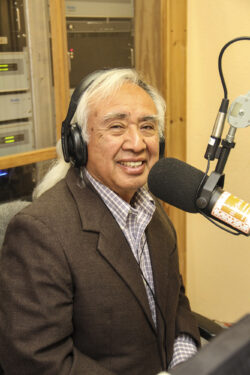 Co-founder and executive director of Radio Bilingüe, the National Latino Public Radio Network, Morales is the 2020 recipient of the Bess Lomax Hawes National Heritage Fellowship, presented in recognition of an individual who has made a significant contribution to the preservation and awareness of cultural heritage.
Hugo is an emeritus board member for ACTA, where he served as a founding board member from 2002 to 2008, before he stepped down from his duties to marry ACTA's Executive Director, Amy Kitchener. Hugo and Radio Bilingüe have been frequent collaborators and partners on programs over the years, including both English and Spanish-language documentation on ACTA's Sounds of California program, and ACTA's Arts in Corrections program. Radio Bilingüe's powerful reach to diverse Latinx communities around the state has contributed to effective and equitable outreach for ACTA's grants and programs over the years. 
While ACTA had no part in Hugo's nomination for this award, we are grateful that his lifelong contributions to the folk and traditional arts of California and the nation have been recognized by the NEA.
"Each year the Heritage Fellowships highlight the distinct living traditions of communities around our nation, as well as how our fellows instill a sense of pride, beauty, and cultural continuity through their art." —Mary Anne Carter, chairman of the National Endowment for the Arts.
The annual celebration of the new class of National Heritage Fellows will take place virtually this year, in response to the COVID-19 pandemic. More information about this event, including the date, will be available at a later time via the NEA.
2020 NEA National Heritage Fellowships
View all the artists from across the U.S. honored this year.