The ACTA family mourns the loss of musician and culture bearer Francisco Gonzalez, who passed away on March 30 at the age of 68. Widely known as a co-founder of the legendary LA-based Chicano rock group Los Lobos, Francisco was a master of the Mexican harp and a lifelong bearer of son jarocho folk music traditions of Veracruz, Mexico.
"He would always say, 'We are gardeners of the seeds of our culture. We plant our seeds patiently, and we nurture the plants of our culture.'"

—Yolanda Broyles-González, Francisco's wife of 38 years
(Los Angeles Times)
In addition to being a devoted educator of son jarocho traditions in Mexico and the US, Francisco made a significant contribution to the sustainability of Mexican folk music in California when he founded Guadalupe Custom Strings, a first-of-its-kind string shop dedicated to the bespoke production of strings for Mexican folk instruments. Francisco founded the original shop in Goleta, CA in 1990 before it was brought to East Los Angeles by Margie Hernandez in 2003. ACTA is proud to have supported an apprenticeship between Guadalupe Custom Strings' current owner, Jacob Hernandez, and his 2014 apprentice Vaneza Mari Calderon in the art of string-making. Observing a longstanding need in the Mexican folk music community and building a business to serve that need was just one way Francisco cared for longevity and strength of his community's traditional practices.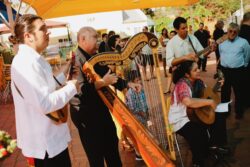 Francisco's impact is long-reaching. We offer just one small story from ACTA Program Manager Quetzal Flores, who learned from Francisco as a member of California's son jarocho community:
"I'll never forget the day I met you.  I drove my mentor at the time, Marcos Loya, to visit you at your shop, Guadalupe Custom Strings in Goleta, CA.  It was springtime in 1995. Marcos was composing the music for La Posada Magica, written by Jose Cruz Gonzalez,  to be premiered at the South Coast Repertory Theater. I sat quietly and worked the Tascam four-track recorder as you gave Marcos insight after insight into Mexican traditional music. The adjustments you made in his compositions brought them to life. Our life. Our language. Our rhythmic sensibilities. You didn't say a word to me, and you didn't need to. Your cultural offerings were heard and seen loud and clear. I drove back home to LA that night trying to hold onto as much of your energy as possible.
Now that we have to say goodbye, I just want to say thank you for existing. Thank you for letting me into your life. Thank you for holding and sharing our traditions with deep faith. Thank you for loving me and my family.
 FRANCISCO GONZALEZ PRESENTE!"
---
Read more about Francisco's life and work in the Los Angeles Times.