What did you learn or reaffirm by leading this workshop? About yourself? About traditional arts?
Luz
By guiding this workshop I learned that although we are distancing socially, we can connect and transmit that message of love and emotional or spiritual healing that all human beings need during a process of loss and grief but that we often hide for reasons of stigma or criticism.
As for myself, I have managed to visualize the death or loss of a loved one as the ultimate liberation of the soul, reaching divine transcendence, leaving pain behind and celebrating life and honoring the person who has passed. As for the traditional or ancestral arts, I am learning to return to them and my objective is to teach the new generations since with modernization we are leaving them in the past.
Dalila
The workshops reaffirmed the teachings that had been passed down to me through my grandmother. During our sharing of ancestral memories around plants and migration I felt a deeper connection to the importance of our cultural knowledge and the healing that comes from our traditional arts.
What was the process like to develop the series with the other artists?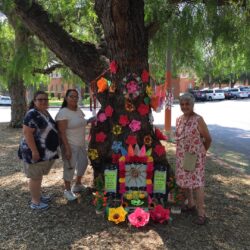 Luz
At the beginning, to develop this series of workshops we had more questions than answers. But as we became clear about the objective, which was to bring the community a space to reconnect with our ancestral traditions, everything flowed naturally, each artist putting their own own teachings and experiences to connect and transmit a message of spiritual healing where each of us was an instrument to achieve this goal.
Dalila
The beautiful thing about this series of workshops has been the collaborative effort between us as a group. It was very generative and inspiring working with this group of artists.  By working with each other we were able to create a series that created a container to heal through traditional arts and ancestral knowledge.
What impact were you able to see in the people who participated?
Luz
The impact that I was able to make during the workshop I guided on loss and grief was very exciting because each participant experienced it according to their own needs. The most important fact was how several of the people managed to connect with their ancestors and how in the healing transition with El Rebozo de Bienestar they managed to release part of that pain that had them tied to a specific episode in their lives.
Dalila
The participants and presenters were intergenerational and fully present.  People shared many personal stories that were very important to the workshop and space. The workshops transformed me and by the participants accounts many felt that the workshops were healing, powerful and empowering. 
Has it inspired you to do more related work? What do you envision?
Luz
The positive response I had from the participants was very gratifying and it has inspired me to continue learning to have the necessary tools to continue working in the community with issues related to healing and achieving mental balance. I imagine transmitting to the new generations the meaning, mysticism and beauty of traditional altars. 
Dalila
It definitely has inspired me to want to continue with expanding these workshops and continuing to work with this group of artists to many more communities.
---
Watch all the La Cultura Cura live videos on ACTA's YouTube page.
All photos are courtesy of Luz Marlene Cordero and Dalila Mendez for ACTA.