From the ACTA family to yours, we are pleased to present you with this recipe for ghapama, a seasonal Armenian stuffed pumpkin dish. It is yours to add to your collection. Feel free to share it with others. This recipe comes to us courtesy of Julianne Burk, one of 34 participants in our 2019 Apprenticeship Program. With ACTA's help, Julianne has spent the last year with Zarouhi "Zee" Bedrossian to learn traditional Armenian home cooking. Follow their progress at Julianne's blog, The Stranger in Your Kitchen.
Julianne's recipe is a savory testament to the work you make possible when you donate to ACTA. You can nurture vibrant cultural communities. You can support the passing on of traditions that takes place between masters and apprentices. It is easy to donate. Any amount is profoundly appreciated. 
Scroll down for two different ghapama recipes—one for a large party, and one for a small party. Enjoy this dish and its story from Julianne!
---
Ghapama: Stuffed Pumpkin
Seasonal Media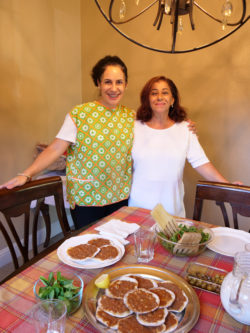 From leaves to gourds, Zee and I make use of "seasonal media" by synchronizing our cooking schedule with the California harvest calendar. In the spring, we rolled up yalanchi, which means "lie" in Turkish because one anticipates ground meat inside the grape leaf roll-up's, but in fact there's only rice and vegetables. Author Paulo Coehlo described them as "rice rolled up in tiny cigars made from grape leaves" in his latest autobiographical novel about traveling to Turkey. But unlike the ones Paulo sampled, ours were more like Cuban cigars given our access to the choicest grape leaves, grown right here in our fertile San Joaquin Valley.
In the summer, we stuffed tomatoes, peppers, zucchini, and eggplant with cooked rice, herbs, and spiced meat to make dolma, which refers to anything "stuffed" in Turkish.  As I discuss in my blog, The Stranger in Your Kitchen – where readers can find the dolma recipe along with a fuller discussion of the dishes' names – many Armenians were forbidden to read or write in their own language during the Ottoman Empire, hence the persistence of Turkish names for many Armenian foods here in Fresno.
We moved onto gourds when the fall came, making ghapama, which is Armenian for "stuffed pumpkin."
I got very excited about this recipe because it straddles cultures so well: it honors the beloved American squash yet retains its proud stature as a traditional Armenian dish, served between the New Year and Armenian Christmas.
So prestigious is this dish that it was served up to visitors to the Washington Mall as part of the 2018 Smithsonian Folklife Festival, "Armenia: Creating Home."
A Melodic Holiday Dish
There is even a song about this dish, called Hey Jan Ghapama  (Հէյ Ջան Ղափամա). According to another faithful WordPress food blogger known as The Food Dictator,
"The song begins with: 'Hey Jan Ghapama, Hamov Hodov Ghapama', meaning 'Dear Ghapama, tasty, aromatic ghapama'.  In Armenian, the word 'Ghapama' literally means 'cooked in a covered pot.' It is prepared by removing the guts of the pumpkin (known as դդում in Armenian, pronounced ddum in Eastern Armenian and ttum in Western Armenian) and stuffing it with boiled rice enriched with dried fruits and nuts such as chopped almonds, apple, apricot, plums, dates, prunes and raisins."
Listen to a version of the ghapama song by Tatoul Altounian's Song and Dance Ensemble.
Traditional Recipe
Serves 12-15
Ingredients
1 medium-large carving pumpkin
1½ cups Cal Rose rice
8 oz. unsalted butter, divided, at room temperature
4 oz. honey
1 cup yellow raisins
6 oz. dried apricots, quartered
8 prunes, quartered
½ cup slivered almonds
Instructions
Wash and dry your pumpkin, then carve the top as you would a Jack-o'-lantern, to create a lid.
Hollow-out your pumpkin, removing all the seeds, as well as the stringy membrane that holds them. (A fork is a helpful scraping implement.) With your hands, rub 4 oz of the butter along the inside walls and bottom of the pumpkin, coating it thoroughly.
Next, coat the walls with the honey with your hands.
Meanwhile, combine the rice with three cups of water in a partially-covered sauce pan. After it starts boiling, turn the heat down to medium-low and cook for approximately 15-20 minutes. (The rice doesn't have to cook completely, as it will later be baked.) Next, drain the rice into a strainer and rinse it immediately with cold water to separate the grains of rice.
In a large bowl, combine the cooked rice, apricots, prunes, raisins, and almonds with the remaining 4 ounces of butter and the cinnamon. Mix together with your hands to ensure the butter is well incorporated, and stuff the pumpkin with the mixture. Put the pumpkin's lid back on and wipe-off the sides.
Cover the pumpkin tightly, and completely, in several layers of foil and place on a baking sheet. Bake at 475 degrees for 2 hours and 15 minutes. Unwrap and serve immediately or let the pumpkin cool completely before unwrapping and transferring to the fridge for later use. (If you decide to do the transfer, support your pumpkin with two spatulas underneath for safe transport as it's quite fragile after baking.)
A Twist on Tradition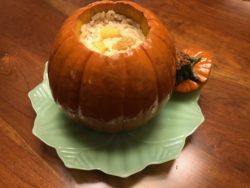 We definitely have a tradition of entertaining extended family on a regular basis, so when I cook with Zee, she always makes enough for three families at a minimum. If you ask me, Ghapama is so iconic precisely because it does feed a crowd. Of course, we operate in a different cultural context here in the 21st century America. Most of us are not likely serving home-cooked food to a dozen people on the spur of the moment.
With that in mind, I challenged Zee to adapt her Ghapama recipe for a small pie pumpkin, creating a dish that serves four people as opposed to fifteen. We were sufficiently satisfied with the results to share the recipe, and we hope it will lower the "barrier to entry" that might accompany the larger version. (Our only critique is that we found the pie pumpkin's consistency to be more "stringy" than the carving pumpkin, which came out meatier and holds up beautifully to the filling.)
Downsized Ghapama Recipe
Serves for 3-4
Ingredients
1 Pie Pumpkin (also known as a Sugar Pumpkin)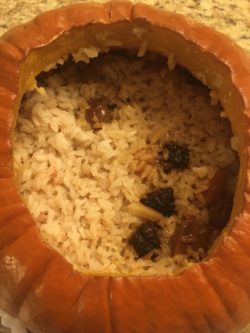 ½ cup Cal Rose rice
½ cup butter
3 tbsp honey
¼ cup raisins
6 pieces of dried apricots, quartered
4 prunes, halved
¼ cup slivered almonds
¼ cup cinnamon
Instructions
Follow the same instructions as above, with three exceptions:
Use two cups of water to cook the rice.
The rice will only need 15 minutes to cook.
Bake at 425 degrees for 1 hour and 10 minutes.


---

If you make this recipe at home, share the results with us! Send us a photo of your creation at info@actaonline.org or by tagging us on Facebook, Instagram, or Twitter at the handle @CalTradArts!