For 21 years the Alliance for California Traditional Arts' (ACTA's) Apprenticeship Program has supported California's cultural traditions with 385 contracts to outstanding traditional artists and practitioners.
Now entering its 21st cycle, ACTA's Apprenticeship Program encourages the continuity of the state's living cultural heritage by contracting exemplary mentor artists to offer intensive training and mentorship to skilled apprentices. Contracts of $3,000 are made with California-based mentor artists to cover their fees, supplies, and, if safe, their travel. Participants work closely with ACTA staff to develop and document the apprenticeships, culminating in opportunities to share results of their work with the public.
The 2021 Apprenticeship Program cohort of 42 artists (21 pairs) represents California's breadth of cultural diversity and intergenerational learning. The pairs range from mentor artists in their late 70s to an 11-year old apprentice, spanning from San Diego to Humboldt Counties. These apprenticeships continue thriving traditions, including indigenous California cultural practices like Karuk women's ceremonial dress making, the traditional foodways of the Ohlone table ceremony, handgame songs of the Maidu tradition, and Dunlap Mono basketry. Others celebrate traditions which have taken root in California, and originally hail from the American South, or West Africa, the Philippines, Cambodia, Vietnam, India, Afghanistan, Syria, and indigenous New Zealand.
ACTA is pleased to announce the
statewide artist pairs contracted in the 202 Apprenticeship Program:
Los Angeles
Najite Agindotan is working with apprentice Metebrafor Agindotan, focusing on the Rhythms of Ejo Masquerade; a community mask dance of unity, blessings, giving thanks and honoring ancestors.
San Jose
Srinath Bala will be training his apprentice Ambika Ramadurai in South Indian Carnatic Percussion, including the Mridangam, Ghatam and Kanjira.
Dublin + San Jose
Surabhi Bharadwajwill be working with her apprentice Vedya Konda on mastering the classical Indian dance form of Bharata Nrityam, delving into the charis and karanas, movements described in the Natya Shastra, and understanding how they are reflected in the steps of Kuchipudi.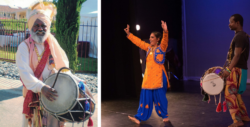 Stockton + San Francisco
Apprentice Joti Singh will be working with mentor artist Lal Singh Bhatti in Punjabi Bhangra music and dance, including various techniques of the dhol.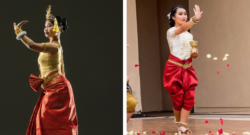 Charya Burt (L) and Victoria Ung (R). Photo courtesy of the artists.
Windsor + Orange
Master dancer and practitioner Charya Burt returns to the program to work with apprentice Victoria Ung in Classical Cambodian Dance.Victoria will study the female role (i.e. princess, goddess), one of the four roles that exist in the Khmer classical dance repertory.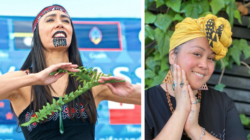 Burbank + Wildomar
Amelia Butler will be working with apprentice Ana Dowden in learning the traditional art form of Māori Kapa Haka, including long poi and short poi, haka (traditional war dance), tītī tōrea (stick game), waiata ā-ringa (action song), waiata (song) and mōteatea (lament).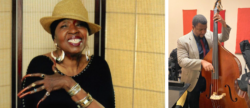 Berkeley + Oakland
Blues musician Faye Carol will be working with apprentice James Wiley in covering a thorough study of American blues music, including the stylistic nuances of regional styles from Mississippi, Chicago, Kansas City, Oakland, Texas, and New Orleans.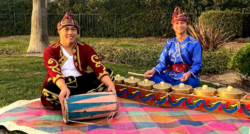 San Diego + Fontana
Returning mentor artist Bernard Ellorin will be working with apprentice Rogelle Zamora in Tagunggu' (gong ensemble) music, namely from the Sama and Tausug ethnic groups located in the Sulu Archipelago, Philippines.

Clearlake Oaks + San Jose
Quirina Geary will be working with Deborah Morillo to transfer the traditional ecological knowledge and foodways essential to hosting a traditional Ohlone table ceremony. 
Three Rivers + Clovis
Mamady Kourouma will be passing on the rhythms of his people to Donte McDaniel to cultivate a strong foundation in West African Traditional Djembe drumming, a form of drumming that is a part of the larger Mandeng (Mandingue) culture and dates back over 400 years.
Oakland + Berkeley
Erik Lee will be working with his long-time student and apprentice Jeremy Brooks, to deepen his practice in liturgical worship or praise dance, which illustrates how spiritual beliefs and practices are retained in dance.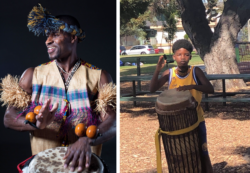 Oakland
Returning mentor artist Kiazi Malonga will be working this year with eleven-year old returning apprentice Rumi Hawthorne-Vaughan in Congolese Ngoma drumming.  They will study the technical aspects of drumming, pushing toward mastery of basic sounds and variations.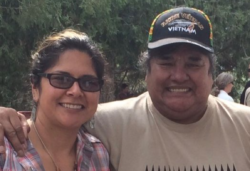 Sonora + Fresno
Marvin will work with his daughter and 2012 ACTA mentor artist Mandy Macias on handgame songs of the Maidu tradition, using Marvin's archival recordings and photos to prompt his memories of people, songs and events related to handgame play and songs.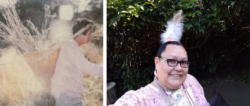 Dunlap
Master basket weaver Gladys McKinney returns to the program to work with apprentice Shonnie Bear, a fellow member of the Dunlap Band of Mono Tribe, in the art of Dunlap Mono basketry. 

Los Angeles + Huntington Park
Anil Natyaveda will be working with his long-time apprentice Leah Vincent in deepening her practice in the Indian martial art of Kalari ppayattu, or Kalari. This will include wooden weapon and hand combat, animal movements, breathing techniques, and healing practices.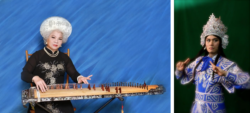 San Jose + San Francisco
Master musician in Vietnamese opera, or Cải lương, Yen Nguyen will be working with apprentice Khoi Truong in passing down melodies and roles that are foundational to the traditional art form.
San Anselmo + Oakland
Former ACTA apprentice Tara Pandeya returns this year to mentor Krystle A. in Afghan dance, Sawal Jawab call and response. 
Menlo Park + Palo Alto
Both a former apprentice and mentor artist, Farah Yasmeen Shaikh, returns to the program work with new apprentice Athena Nair in North Indian Kathak dance. The focus of the apprenticeship is to prepare Athena to step into the role of solo performer, choreographer, and educator.
Los Angeles + San Bernardino
Fode Sissoko, a master of the West African kora in Mande music, will be training his apprentice, Makeda Kumasi in traditional rhythms and techniques of the kora, including instrument tuning and maintenance, plucking styles, increasing finger speed, and ear training.
Blue Lake
In preparation for a family members' Ihuk Ceremony (a Karuk Young Women's Puberty Ceremony), Kapoon Tripp and her niece and apprentice Ty'ithreeha Allen will be completing a shell dress to be used in the ceremony, as part of their apprenticeship in Karuk Women's Ceremonial Dress Making.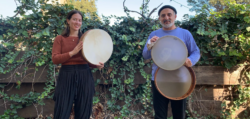 El Cerrito + Oakland
Master percussionist Faisal Zedan returns to the program to train new apprentice Nicole Hoffschneider in Arabic Frame Drumming, and may touch on other Arabic percussion instruments including the derbekki.