After an extensive job search process in which ACTA considered an impressive pool of candidates from around the country, we are pleased  to announce the appointment of ACTA's new Arts in Corrections (AIC) Program Manager: Jasmin Temblador! Jasmin has been with ACTA since 2017 in the role of AIC Program Coordinator, and we are looking forward to her guiding the program as it moves forward .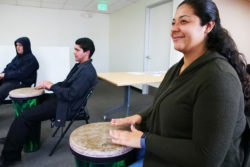 As Program Coordinator, Jasmin worked with traditional artists in Southern California in collaboration with the California Department of Corrections and Rehabilitation (CDCR) to bring traditional arts programming to eight  prisons, in addition to supporting programming in the other ten  prisons ACTA serves. Jasmin also coordinates ACTA's Reentry Through the Arts Program in partnership with the Wellness Center in Los Angeles to support returning citizens in their transition from incarceration back into their communities. Earlier this year, Jasmin earned a Master's degree in Cultural Sustainability from Goucher College, where her research worked to enhance and leverage the voices of underrepresented communities, traditions, ways of life, and cherished spaces. As Program Manager, Jasmin will oversee ACTA's work in all eighteen prisons up and down the state.
We are thrilled to have Jasmin expand her work at ACTA and contribute her knowledge, experience, and new ideas to this role! Congratulations Jasmin!