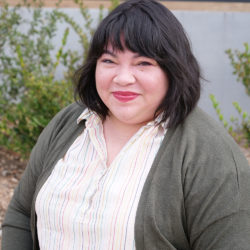 We are pleased to announce the latest addition to the ACTA team! Marcella Lopez-Schmidt has just joined our Fresno office as an Arts in Corrections Program Coordinator. She will work alongside Program Manager Jasmin Temblador and Program Coordinator Kenya Curry in facilitating traditional arts residencies inside eighteen California prisons.
Marcella is a Fresno native and is especially committed to supporting equity in the Central Valley. With a passion for social justice, storytelling, and the arts, Marcella earned her B.A. in cultural anthropology from CSU Fresno. Her experience is in the areas of youth organizing and development, community engagement, and grant management. Working alongside community members, she has organized for restorative justice in Fresno and Madera Unified School Districts in an effort to end the school-to-prison pipeline and has contributed to campaigns towards environmental, reproductive, food, and community planning justice.
Marcella previously facilitated The Beat Within writing workshops for youth at the Fresno County Juvenile Justice Campus, and has facilitated creative writing and dance workshops for women at the Central California Women's Facility in Chowchilla since 2016. Marcella joined ACTA in 2020 as a Program Coordinator for the Arts in Corrections program.
We look forward to Marcella contributing her experience and passion to ACTA's Arts in Corrections program as we continue to serve incarcerated communities across the state.