This year, the Alliance for California Traditional Arts is awarding $205,000 to 41 organizations to support folk and traditional arts.
Since 2005, the Living Cultures grants have supported over 700 community-based projects, with $3.8 million in funding across 50 counties in California. This year's cohort represents a diverse array of cultural communities and their respective artistic forms of knowledge. We're proud to promote them all, from African American storytelling in Los Angeles deployed by way of the creation of miniature historical scenes to the movement of Aztec dancers celebrating the corn harvest ceremony in Lincoln, Sacramento County. Read about the grantee organizations and their cultural practices below.
Introducing our 2020 grantees. Congratulations!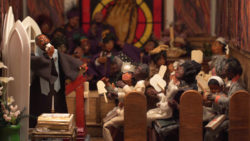 Compton
African American Miniature Museum Expansion
The organization will expand the museum's collection by purchasing materials, conducting researching, and creating and presenting 15 new dioramas.
Oakland
Dance and Drum workshop
The organization will continue its after school program for children: teaching dance and drum rhythms from Haiti, Congo and Senegal, and adding African and hip hop fusion dance.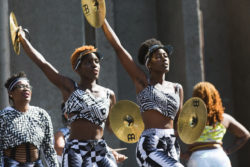 Oakland
Bakanal de Afrique 2020
For their biennial multidisciplinary festival of urban African arts and culture, the organization will explore modes of transport as a conduit of citizenship, specifically through the themes of belonging, mobility, and access.
Bard
Kuruk: Quechan Mourning Ceremony
The Foundation will use the grant to research and teach the cultural history surrounding Kuruk mourning practices.
Mariposa
Regalia Instruction and Educational Classes
The Nation will organize a women's regalia-making workshop for tribal members that will take place at the Miwu Mati Family Healing Center beginning in April 2020.
Oakland
Southeast Asian Unity through Cultural Exploration (S.A.U.C.E)
The organization will once more offer their S.A.U.C.E. program, which incorporates traditional Southeast Asian culinary arts with traditional storytelling.
Oakland
Youth Bomba y Plena Workshop
The workshop creates a fun, safe, responsible, and effective environment for teaching children and youth Puerto Rican music and dance traditions.
Berkeley
Fiddle Convention Legends: A Cultural Exchange
Funding will help cover artist fees and related costs for tradition-bearers from Virginia and North Carolina who exemplify the highest standards of Southern old-time music.
San Jose
2020 Sovan Macha
The organization will reprise Sovan Macha, a classic Cambodian dance, inviting performing artists from other communities to collaborate in a contemporary production.
San Francisco
Kathak Dancer Fellowship
The organization will create a Kathak Dancer Fellowship to provide support for continued training, deeper education, and performance opportunities for alumni and graduating Chitresh Das Youth Company members.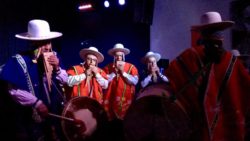 Oakland
Building Community Through Andean Music
The community will pursue a project that provides education and training in traditional music and Andean cultures over the course of six months to people with Andean ancestry as well as others in the community.
San Francisco
16th Annual CubaCaribe Festival of Dance and Music
The organization will present the work of choreographers and performers active in the traditional dance and music of Cuba, the Caribbean and African diaspora at its annual festival.
Oakland
Back to the Root: Somatics of African Rooted Dance
Funding will be used to support the organization's new three-day event that will specifically explore African diaspora dances that utilize the spine and pelvis in an effort to understand the deeper meaning of the techniques themselves.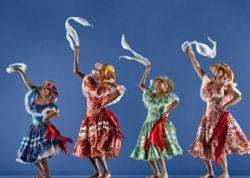 Richmond
Afro-Peruvian Music & Dance for Youth & Adults
The organization will present an Afro-Peruvian music and dance program for the Bay Area with the purpose to unite, make visible, and educate the community.
Capitola
Celebrating 40 Years of Esperanza!
The organization will celebrate its anniversary with a calendar of community events and gala performances that highlight the best of the company's work over the past four decades.
San Ramon
Eszterlánc Costume and Accessories Project
The grant will support the creation of new costumes locally and a custom boot order made by a master craftsman from Hungary, all of which will be premiered in a new choreography in May at the Hungarian Heritage Festival in Belmont, CA.
Watsonville
Ha Mbongui African Dance and Drum Conference
The grant will support the fourth annual three-day conference in Santa Cruz that will feature master artists in traditional dance, drum, and song, from Congo, Haiti, Guinea, and Senegal.
Los Angeles
FandangObon Music, Dance and Eco-Festival
Funds will once more contribute to collaboration and dialogue at the festival, which reaches deep into Los Angeles' Mexican, Japanese, and African American communities and engages people of all ages and backgrounds through traditional participatory arts.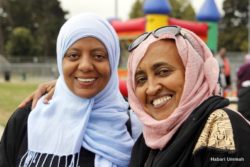 Alameda
Nourishing Islamic Arts in Oakland (NIA-OAK)
The grant will also support a series of eight Islamic arts summer classes for Muslim youth, as well as two separate intergenerational workshops focused on Arabic calligraphy and geometric patterns.
Sacramento
Performing Arts and Culture Program
The organization will create an eight-week program for community members in Sacramento to continue to learn about various Hmong cultural arts and participate in performances as well.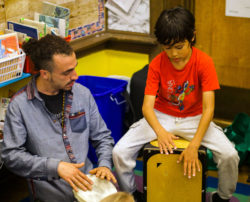 San Francisco
Mission Ritmo y Tradición
The organization will create a series of educational workshops that center around the distinct musical landscape of the Mission district of San Francisco, long known for its rich Latin American presence.
Los Angeles
Jonkanoo Masquerade
The organization will create traditional Jamaican Jonkanoo costumes to be used in performance and displayed at public events in an effort to showcase Jonkanoo (also known as John Canoe or Jonkunnu), a masquerade tradition developed by enslaved Africans of the Caribbean.
Santa Cruz
Japanese Cultural Fair
The grant will support the production of the annual one-day festival featuring Japanese culture—both traditional and contemporary—through the arts, crafts, food, historic presentations, demonstrations, and performances.
Huntington Beach
One Spirit Many Souls Luau
 The Luau will feature students and entertainers from the Polynesian community showcasing songs and dances from Hawaii, Samoa, Tahiti, and Aotearoha. Leading up to it, the project involves months of classroom preparation as students will learn the history, language, music, and dances to be presented.
El Cerrito
Klezmer music, Yiddish song, and klezmer dance workshops
The grant will aid in creating twelve participatory workshops in East European Jewish culture (Yiddish culture) around the San Francisco Bay Area: eight for instrumentalists, two for dancers, and two for singers.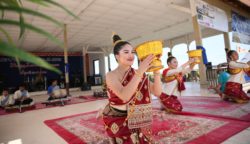 Fresno
Lao Cultural Classes
The organization will provide weekly culture classes offered at the Lao Dhamma Sacca Temple in Fresno each week—essential in the preservation of traditional Lao music and dance, which in turn can help educate the larger community about the Lao history and culture.
Stockton
Little Manila Rondalla Academy
Artistic Director Brian Batugo, in collaboration with Herna Cruz-Louie and her students at the American Center of Philippine Arts, will develop another year of the musical Academy.
North Hills
The Pangalay Project
The organization will produce and present a full gala highlighting the traditional Pangalay dance from the southern Philippines.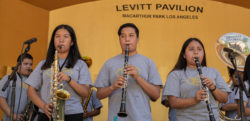 Los Angeles
Traditional Music of Oaxacan Bands
The organization will revive and disseminate traditional Oaxacan music in Los Angeles, offering a friendly learning alternative tied to the traditions of the ethnic groups from state of Oaxaca (Zapotecos, Mixtecos, Chinantecos, Mixe, etc.) through free public concerts.
Lincoln
Tlapokhuiliztli / Our Harvest Ceremony / Ceremonia de Maiz
The grant will support a gathering of regional Aztecan dance groups to celebrate the fall harvest through traditional music, dance, regalia and food.
Alhambra
Puentes de Poder
The sponsored event includes the annual celebration of the anniversary of the construction of the Panama Canal with a specialized dance, song, and drum workshop that showcases Panamanian folklore and Afro Panamanian traditions.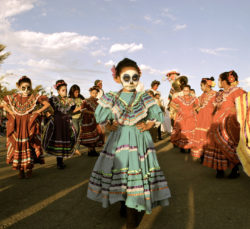 Coachella
Annual Día de Los Muertos Celebration
The grant will help expand the annual event to include, among other things, an increase in the number of community workshops, a new historical educational component, and an increase the amount of visual and performing arts.
Oakland
Rasanble! Haitian Arts & Culture Festival
The organization will offer their multi-day festival featuring master artists from Haiti and the United States that will engage students, artists, scholars, and community leaders; classes include keynote lectures on cultural history, dance, song and drum technique, and Kreyol language.
Chino Hills
Festival of Tabla
The grant will support the festival, which aims to bring together solo tabla performance along with its age-old repertoire of original compositions which date back to the 16th century, and the oral tradition of ancient rhythmic shlokas (poetry).

Los Angeles
Leimert Park African Drum Workshops and the Dununba Festival
The organization will offer weekly, 90-minute African Drumming and Dance workshops at Kaos Network in Leimert Park, in addition to their annual Dununba Summer Festival in Leimert Park.
Oakland
Bahia Beats: Oakland Streets
The organization will introduce this new community arts program which includes a series of African Brasilian public dance and drum classes, workshops, performances, community appearances and processions throughout East and West Oakland.
Fresno
Al Pueblo le Canto III
The organization will teach Mexican traditional, American, and Latin American folklore, Nuevo Canto – New Song, and contemporary styles of music, for free for low-income community members.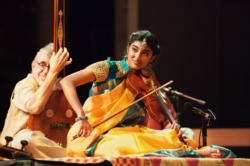 Pasadena
Ravi Shankar Centennial Celebration
This anniversary concert celebrates on of the organization's late founders, Ravi Shankar, and his continuing legacy in classical Indian music. It will feature Swapan Chaudhuri on the tabla, an artist who played with Pandit Shankar for many years, as well as Niladhri Kumar a young musician who has been influenced by his work.
San Bernardino
Inland Empire's Ultimate Doundounba Festival
The funds will support the organization's weekend of workshops in West African Drum and Dance, film screenings, a showcase, and invitational competition.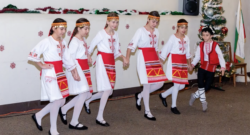 San Diego
Bulgarian Annual Traditional Concert
The organization will host the concert in December, which will help preserve an important part of Bulgarian traditional dances and help children to improve their native language in the context of traditional Bulgarian art.
Palo Alto
Yuva Bharati – Kalpana 2020
The grant will be used to showcase a flagship program that features amateur dancers who have qualified through an arangetram, a two hour-solo performance.
---
The Living Cultures Grants Program is supported by the Walter & Elise Haas Fund, The Flora & William Hewlett Foundation, and the Surdna Foundation, with additional support from the California Arts Council and the Los Angeles County Board of Supervisors through the Los Angeles Department of Arts and Culture.