For 23 years the Alliance for California Traditional Arts' (ACTA's) Apprenticeship Program has supported California's cultural traditions with 430 contracts to outstanding traditional artists and practitioners.
Now entering its 23rd cycle, ACTA's Apprenticeship Program encourages the continuity of the state's living cultural heritage by contracting exemplary mentor artists to offer intensive training and mentorship to skilled apprentices. Contracts of $5,000 are made with California-based mentor artists to cover their fees, supplies, and travel. Participants work closely with ACTA staff to develop and document the apprenticeships, culminating in opportunities to share results of their work with the public.
The 2023 Apprenticeship Program cohort of 48 artists (24 pairs) represents California's breadth of cultural diversity and intergenerational learning, totaling a statewide investment of $120,000. The pairs range from mentor artists in their 70s to an 11-year old apprentice, spanning from Ventura to Humboldt Counties. These apprenticeships continue thriving traditions, including indigenous California cultural practices such as Me-wuk and Ohlone basket weaving, or bow and spoon making in the Hoopa tradition. Others celebrate traditions which have taken root in California, including those that originally hail from Iran, Puerto Rico, Peru, the Philippines, and communities including Hmong, Lao, Native Hawaiian, and Zapotec, and others.
ACTA is pleased to announce the 24 statewide artist pairs contracted in the 2023 Apprenticeship Program: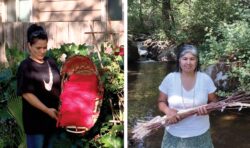 Beverly Cantrell + Taweah Garcia
Redding, Shasta Co. + Dunlap, Fresno Co.
Cradleboard Basketry in the tradition of the Pit River Nation
Beverly Cantrell (Pit River Nation) and Taweah Garcia (Pit River Nation) will gather cradleboard materials, prepare willows, and make designs unique to their tribe, ultimately completing a cradleboard.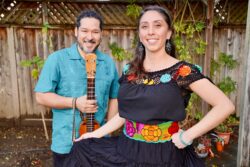 Claudio Vega + Dolores "Lolis" García
El Cerrito + Richmond, Contra Costa Co.
Traditional Son Jarocho Music
Claudio Vega will teach Lolis to sing and present son jarocho songs, so society will see her playing the music on an instrument which women have historically not been allowed to use.
Conrad Jaminola Benedicto + Jinji Sayson
San Francisco, San Francisco Co. + San Jose, Santa Clara Co.
Kulintang Music of the Southern Philippines, from the Kalanduyan line
Conrad Jaminola Benedicto, two-time ACTA apprentice of the late NEA National Heritage Fellow Danongan Kalanduyan, returns to the Apprenticeship Program as a mentor to Jinji, who will learn the basic rhythmic and melodic patterns on all ensemble instruments for Kamamatuan and Kangungudan, styles of kulintang music.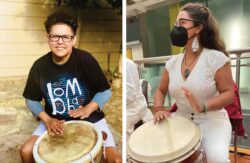 Denise Solis + Leslie Quintanilla
Oakland, Alameda Co.
Afro-Puerto Rican Bomba
Denise Solis will train experienced Bomba dancer Leslie Quintanilla to become a buleo drummer and holistic practitioner of Bomba, a tradition in which dancing, drumming, and singing are collectively rotated roles.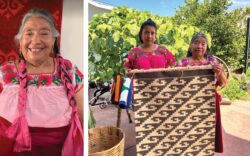 Estela Sosa Bautista + Benita Martínez Sosa
Moorpark, Ventura Co.
Zapotecan Sarape and Woven Memories | Sarape Zapoteco y Memorias Tejidas
Estela Sosa Bautista will guide her daughter, Benita Martínez Sosa, to independently make a sarape (a woven garment similar to a shawl), create natural dyes, and use a large loom.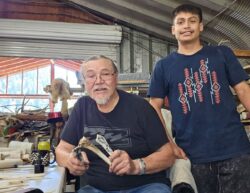 George Blake + Takatamah Yeship Montgomery
Hoopa, Humboldt Co.
Bow and spoon making in the Hoopa tradition
NEA National Heritage Fellow and 2014 Apprenticeship Program mentor George Blake (Hoopa, Yurok) will teach his grandson Takatamah Yeship Montgomery (Hoopa, Yurok) to craft sinew-backed bows and carve elk horn antlers in the Hoopa Tradition.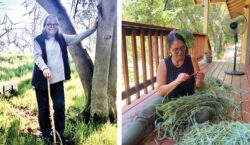 Jennifer Bates + Jeanette Innerarity
Tuolumne, Tuolumne Co. + Elk Grove, Sacramento Co.
Traditional Me-wuk/Miwok Basket Weaving
Jennifer Bates (Northern Sierra Mewuk), who participated in the Apprenticeship Program as a mentor in 2011 and 2017, will instruct Jeanette Innerarity (Ione Band of Miwok) in identifying and collecting native plant materials, preparing them for use, and creating a basket.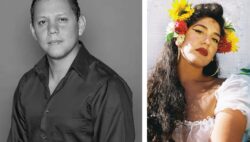 Jesus Cortez + Cecilia Cassandra Peña-Govea (La Doña)
Daly City, San Mateo Co. + Oakland, Alameda Co.
Zapateado Jarocho
Jesus Cortez will mentor La Doña in zapateado choreographies and the compositional form of Sones Jarochos, culminating in two presentations accompanied by live musicians.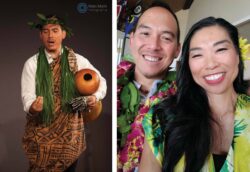 Kawika Keikiali`i Alfiche + Anjal Pong
South San Francisco, San Mateo Co. + San Francisco, San Francisco Co.
Hula (Hawaiian Cultural Arts) / Halau o Keikiali`i (Hawaiian)
Kawika Keikiali`i Alfiche, a mentor in the 2008 Apprenticeship Program, will work with Anjal Pong to make four types of hula: Puniu (coconut knee drum), `Uli`uli (featherless gourd rattle), `Ulili (triple gourd top), and Lapaiki (small skinned drum), as well as to study their accompanying styles of oli (chant) and kaona (layered symbolisms).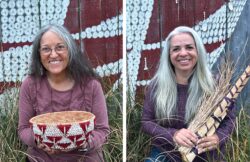 Linda Yamane + Violet Smith
Seaside, Monterey Co.
Ohlone Coiled Basketry
2000, 2010, and 2014 Apprenticeship Program mentor Linda Yamane (Rumsen Ohlone) will share her knowledge of Ohlone fine coiled basketry with Violet Smith (Rumsen/Ramaytush Ohlone), including how to gather, prepare, and weave materials, while incorporating Rumsen language and songs into their activities.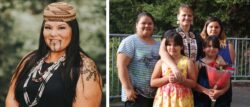 Maggie Peters + Misty Knight
Willow Creek + Hoopa, Humboldt Co.
Traditional Baby Basket Weaving in the Yurok, Hupa, and Karuk traditions
Maggie Peters (Yurok, Karuk), a mentor in the 2014 and 2018 cycles of the Apprentice Program, will teach Misty Knight (Hupa, Yurok) to create a traditional Yurok baby basket, from gathering, cleaning, and sorting materials to weaving them together.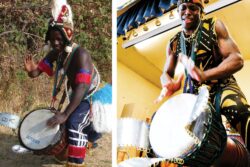 Mamady "Wadaba" Kourouma + Donte McDaniel
Kaweah, Tulare Co. + Fresno, Fresno Co.
West African Traditional Djembe Drumming
Mamady "Wadaba" Kourouma and Donte McDaniel, an artist pair during the 2021 Apprenticeship Program, return in 2023 for Donte to learn familial rhythms and the Guinean style of drumming.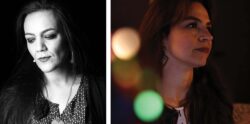 Marjan Vahdat + Heranoosh Talebzadeh
Rocklin, Placer Co. + Irvine, Orange Co.
Persian traditional Radif singing
Marjan Vahdat will mentor Heranoosh Talebzadeh in developing a personal, unique way of presenting traditional and regional Persian music by instructing her in Radif (a system of organize repertoire), Tahrir (a freeform vocal technique), and Persian poetry.

Marsha Carter + Zondra Martin
Stockton, San Joaquin Co. + Oakland, Alameda Co.
African American Traditional Quilting
Marsha Carter will guide Zondra Martin in studying African diasporic women brought to America from Ghana and to western India from the South African Bantu, while also teaching her traditional African strip/string and patchwork quilting techniques.
Nadhi Thekkek + Shruti Abhishek
Alamo, Contra Costa Co. + Livermore, Alameda Co.
South Asian Dance – Bharatanatyam
Nadhi Thekkek will mentor Shruti Abhishek in researching literature on the goddess Bhadrakali and its adaptions into Bharatanatyam dance movements. Shruti will then develop a unique Bharatanatyam piece representing the legend.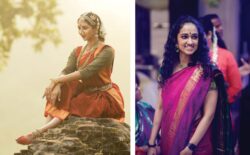 Nitya Narasimhan + Charanya Kannan
Sunnyvale + San Jose, Santa Clara Co.
South Asian Dance – Bharatanatyam
Nitya Narasimhan will lead Charanya Kannan through a holistic program including body awareness, Nritta (technique), emoting, Talam (rhythm), choreography nuances, Bharatanatyam dance theory, and the analysis of historic texts in order to infuse their meanings into choreography.
Pezhham Akhavass + Tiyam Fereydouni
Albany + Berkeley, Alameda Co.
Tombak (Persian Goblet Drum)
Pezhham Akhavass will instruct Tiyam Fereydouni in intermediate and advanced tombak techniques, including singing and playing in Farsi, reciting Tasnif (a form of Persian music), practicing pieces from the Iranian Radif, and performing both solo and with other musicians.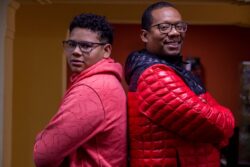 Pierr Padilla Vasquez + Yussef Padilla Nuñez
Oakland, Alameda Co.
Afro-Peruvian Cajón | Cajón Afroperuano
Returning 2019 Apprenticeship Program mentor Pierr Padilla Vasquez will train his son, Yussef Padilla Nuñez, in the Afro-Peruvian technique for playing and performing Cajón, including the most popular Afro-Peruvian music genres (Festejo, Alcatraz, Landó, Son de los Diablos, Pregón, and Zamacueca).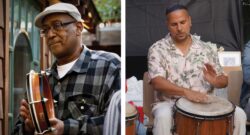 Roman "Ito" Carrillo + Pablo Paredes Burgos
San Lorenzo + Albany, Alameda Co.
Puerto Rican Bomba
Roman "Ito" Carrillo will help Pablo Paredes Burgos master three instruments (maracas, cuas, and barriles), four Bomba rhythms (Sicá, Yubá, Cuembé, and Holnadé), dances for each rhythm, and the established cannon of rhythmic phrases and dance expressions for Primo drumming. This will be Carrillo's third cycle in the Apprenticeship Program, after participating as a mentor in 2006 and 2014.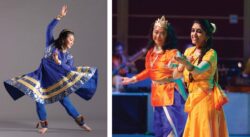 Seibi Lee + Sonali Toppur
Kensington, Contra Costa Co. + Fremont, Alameda Co.
Kathak
2016 mentor Seibi Lee returns to the Apprenticeship Program to teach Sonali Toppur how to develop a story involving Ganesh (the Hindu elephant god), translate it into dance, and present it as a solo performance.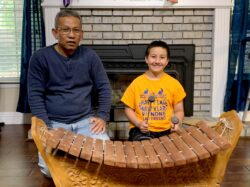 Sid Vixay + Connor Phelan
Clovis + Fresno, Fresno Co.
Lanaad, Lao Traditional Musical Instrument
Sid Vixay will guide Connor Phelan in studying different methods for playing the lanaad and in mastering Lao Classical songs, including Lao Kasae, Champa Meing Lao, Dok Bouathong, Lao Sieng Tien, and Sai Lom Yen.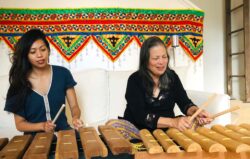 Titania Buchholdt + Patrici Flores
Richmond, Contra Costa Co. + Northern California
Kulintang Music of the Philippines
Titania Buchholdt, who participated in the Apprenticeship Program in 1999-2000 as an apprentice to the late master artist Danongan Kalanduyan, and also as a mentor in 2017, will instruct Patrici Flores in kulintang ensemble music and the cultures which gave rise to it, focusing on pieces from Maguindanaon and Maranao cultures.
Tony Lor + Ye Thao
Merced, Merced Co.
Qeej (Kheng) Hmong Traditional windpipe flute
Tony Lor will teach Ye Thao the qeej (kheng) songs required for Hmong funerals, such as the four- to ten-hour "Soul Guidance Song," as well as the related dance moves and breathing techniques.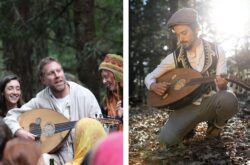 Yuval Ron + Dor Haberer
Studio City, L.A. Co. + Smartsville, Nevada Co.
Jewish Oud music
Yuval Ron will mentor Dor Haberer in Moroccan, Israeli/Palestinian, and Ladino songs, along with piyutim (Jewish prayer chants), rhythm and timing, Makaams (scales), and weaving stories into songs.
---
The Apprenticeship Program is a program of the Alliance for California Traditional Arts (ACTA), generously supported by ArtPlace San Joaquin Valley, the Walter & Elise Haas Fund, the William and Flora Hewlett Foundation, the National Endowment for the Arts, and the Maxwell/Hanrahan Foundation. Additional support provided by the California Arts Council, and the Los Angeles County Board of Supervisors through the Los Angeles County Department of Arts and Culture.